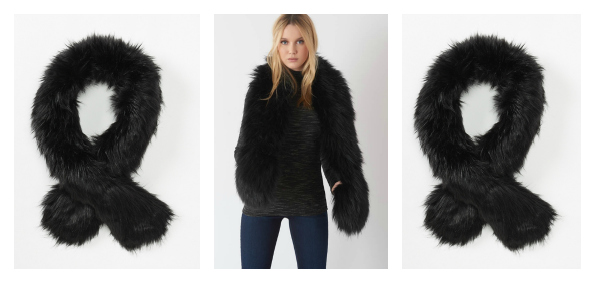 I am all for the snuggly-warm accessories in life when it comes to winter. Indulge in this long faux fur collar on sale from $34.95 down to $15. When you add this collar to your cart, an extra 25% comes off your order bringing the collar down to just $11.25. Receive free shipping on your order whether you are buying this for yourself or as a Christmas gift for someone special.
I like blogging about things that interest me and this collar certainly holds my interest. This is the perfect piece to top your coat or jacket when going out for dinner or to the movies. Toss this around your shoulders and even loop it around your neck if you wish. While they call it a 'collar', it is more like a faux fur scarf that has a multiplicity of uses.
First: this piece is designed for adding a touch of elegance to any outfit. Faux fur looks gorgeous and it really can help 'fancy up' an otherwise plain coat. You could also wear this without a coat; just throw over your shoulders or around your neck on top of a sweater, dress, etc. I hate wearing coats when I am dressed up for a night on the town - so I would just toss this around my shoulders and bask in the little bit of added warmth and class.
However, this little faux fur collar has more potential than just that. Use it as a boudoir piece for a night with your love when glass pumps adorned with faux fur pom-poms are in order and a bottle of bubbly is on ice. Just enjoy it draped around your shoulders while sitting in front of the fireplace listening to Christmas carols and sipping Santa's eggnog (the spiced variety). This long faux fur collar has such potential as a beautiful outdoor and indoor accessory.
I really like this faux fur collar and would probably buy it if I did not already own something very similar (that is how I have all these brilliant ideas, you know). I will say that this would make a very nice Christmas gift and it won't cost you very much either. One size fits all.
(Expiry: Unknown)