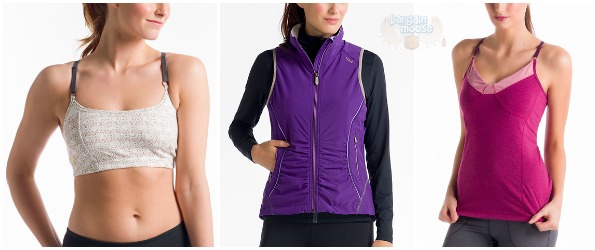 Lole Canada is hosting an up to 40% off winter sale on their athletic wear and outdoor gear for women. All orders at Lole ship for free across Canada.
The winter sale section has an incredible selection of gear for women on the go. Choose from jackets, vest, shirts, tops, bras, pants, and more at discounts up to 40% off the original price.
While I am not (usually) a vest wearer, the Light 2 Vest is appealing on so many levels. The wind-repellent material helps keep your core warm while your arms are free to roam about as they may. The vest is also water-repellent, so if you hit any rain on your morning run at least a part of you will stay dry. I find lately that I prefer to have my arms completely free while my core is nice and cozy so this vest would be a nice investment piece. Originally $100, it is now on sale for $60.
The coolest pants I have seen in the last few years have to be the Trek 3 Pants by Lole. They are a regular fit jean with a midrise and a straight leg. They may sound normal enough, but the Chino fabric has your skin covered with UPF 50+. Originally $80, the pants are now on sale for $48. There are only a few sizes left in each colour. I like the brighter coloured pants and only regret that amazing yellow-orange is no longer in stock.
The Shelby Blazeris a tailored looking cropped blazer in a soft heathered fabric. Faux Sherpa lining on the inside collar keeps your neck warm and comfortable while chino inserts look fantastic in the deeper shades. I like how they work to colour block the arms. Originally $150, the jacket is now on sale for $90. I could see wearing this jacket all the time. It looks like the perfect casual blazer to pair with jeans or leggings, and even casual skirts. It looks durable to take on casual hiking trips and also for camping trips.
For women in need of a new sports bra, this Luma Bra looks to offer excellent support. Originally $60, the bra is on sale for $42. There are several other sports bras available as well like the Kali Bra that was $42 and is now $29.40. The Kali is a low impact bra with fantastic strap detailing on the back.
(Expiry: Unknown)