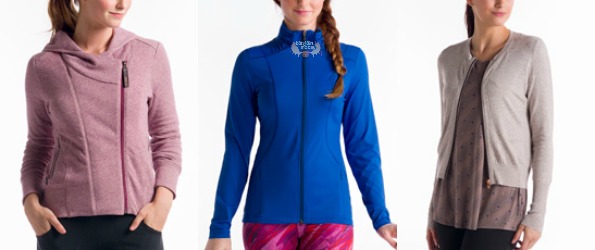 With the warmer weather approaching, you might want to take your workout outside. I know I do! But, it isn't cool enough to don a tank top and bare arms. Cover up with a cardigan from Lole, regularly $100 and now $60. There are a few styles on sale, so you are sure to find something you love. You'll also get free shipping on any order.
I really love Lole and I love that I don't have to pay Lululemon prices for the same quality of activewear and that I won't have the same outfit as someone else.
My favourite of the cardigans on sale at Lole is the essential cardigan. There are six colour choices and I adore the yellow for that hit of freshness for spring. Unfortunately everyone else does too and only size small is left. The other choices also only have limited sizing because I bet everyone loves the feminine fit and the stand up ruched collar.
Somewhat similar to the essential is the unite cardigan. It is actually a hoodie with a drawstring hood and ribbed sleeves and hem. It has a sort of mesh-like look, but it actually made with bonded polar fabric, which is just warm and fuzzy. Three colour choices are available but there is lots of sizing available for this one.
Something with a little bit of a different look is the carey cardigan. It has an offset zipper and a sort of fold-over neck. This one is also made with organic cotton terry, so you can feel good in it and know you are wearing organic. Only medium is available in the dark charcoal mix but all sizes are available for the beaujolais mix. I like the beaujolais as it is sort of like a pink, but not what you'd think when you think pink.
The Interest cardigan is simple, with some strategically placed lines and a high neck to keep the cold out. Size small and medium is available in the beaujolais heather.
I think the only difficult part about this sale is choosing which of the cardigans I like best. I could even get a few, as the savings make it a great deal.
(Expiry: Unknown)