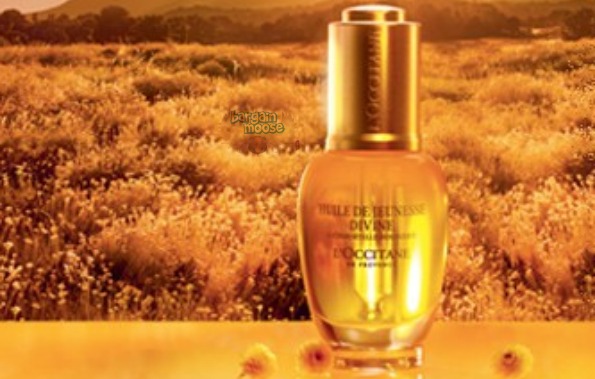 I am always on the hunt for  freebies and I came across a really great freebie from L'Occitane Canada.  Get a free sample of their new Divine Youth Oil for a limited time only.
This 4ml free sample of the new Divine Youth Oil is valued at $15, so it is a pretty nice freebie to get.
You will be able to get this free sample either online or in stores. To get your free sample, click Explore and a secondary menu will appear. Click to get your free sample and fill in your name and email address and hit send to complete your order on the left hand side of the screen. I say that because it actually took me a minute to see where to fill in my info. Other bloggers at Bargainmoose had some trouble getting the menu open, so if this happens, try another browser. L'Occitane Canada will send you an email with a unique coupon code to your inbox that you can use to get your free sample. I got mine within minutes of filling it out.
If you are getting it in stores, just print off the email and the cashier will give it to you right then and there.  If you are getting it online, you will not need to buy anything to get it.  Just enter the promo code at the checkout to get it delivered to you.
The regular cost of the new Divine 30 ml bottle is $100.  That is a lot of money to spend for something new and something you are unsure of.  Getting a 4ml for free is the perfect way to test it out and see if you like it.
As a nice bonus that they didn't even mention, I noticed at the checkout that the coupon would also get me 15% off fall favourites as well, and free shipping on all orders of $35 or more instead of the regular $99 or more. I mentioned above that you don't need to spend any money to get this freebie but if you are getting it online, I suggest you at least spend the $35 free shipping minimum.  Even though the sample is free, if that is all you are getting, you will be charged shipping.
As always, you will get three free samples with every single order.  You will get them even with this order of just the freebie if you choose not to order anything else. Additionally, you will be able to choose which ones you would like at the checkout before you pay for your order. Right now, there are six different samples that you can choose from for free with your order.
(Expiry: Limited time only)