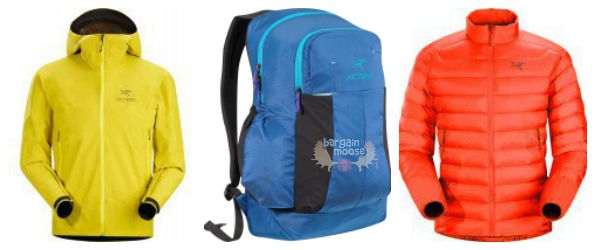 I found some killer deals to stack at Live Out There today. First, you'll want to get prepped for the cold temperatures (yes, I know it is over 30+ degrees in many parts of Canada today) as winter will truly be here before you know it. Second, you'll want to do it with up to 50% off Arc'teryx at Live Out There. Once you've added $50 worth of items and this is your first order, you'll want to add the coupon code EXTRA15 to get a whopping $15 taken off your order. This order, and every one you place at Live Out There always gets free shipping.
I quite love a deal on a deal and free shipping. There truly is nothing better in the deal-hunting world. Arc'teryx is made for the Canadian climate. It is technical, high-performance outerwear that will last long enough that you'll want to hand it down to your children. I love that it was conceived right here in Canada, in the mountains of British Columbia. While you usually pay quite a premium for a quality brand like Arc'teryx, today at Live Out There you are going to score some hot deals instead.
I found this women's Rho LT zip neck, which is lightweight but perfect for wearing under your heavier layers. It will wick moisture and breathe, plus Spandex helps it to move with you and stay close to your body. Four colours are available, but you are going to have to choose by size as each size has one size available from XS to XL (but no medium). Regularly $99.99, this top is on sale for $50, but comes down to $35 in the cart. Checking around, the cheapest I could find it was Altitude Sports where it sells for $60.
If you are looking for a hoody, the women's Thaleia hoody is quite the steal. Perfect for fall and early winter runs, it is a midweight fleece pullover. Even though it is fleece, it allows for moisture wicking and is lighter so you don't burn up on the trails. You also wouldn't think of fleece as stretchy, but this one is so you can run freely. I also love that it has a hip pocket for placing your music device. Regularly $119, it is on sale for $60. Add the coupon and get it for a very low $45! Each colour has varying sizes available. Checking around, I only found it for full price ($120!) at other Canadian retailers.
(Expiry: Unknown)