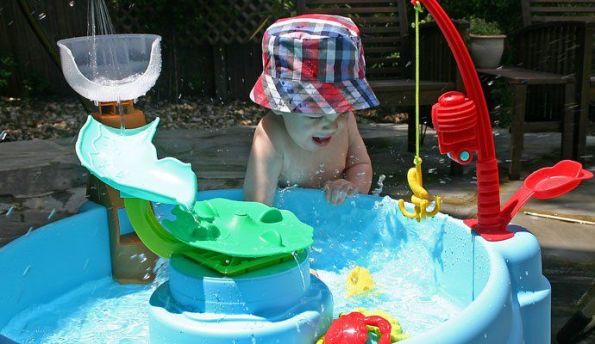 Sure, this might be a toy that is more inspired for spring and summer, but it would still look fantastic wrapped up under the tree this Christmas. Even if you have a child with a birthday in the spring or summer, this might be worth it to buy this early. The Little Tikes Fisn 'n Splash Water Table is on clearance at Walmart.ca for just $23. That is a slice of about 50% off the regular price which was $46.67. Spend $50 to get free shipping to your home, or explore the other free shipping options.
During the hot days of summer, it is a fantastic idea to have a water table outside for your kiddos. It keeps them entertained while keeping them cool, that's for sure. But water tables can be pricey. They would normally cost you upwards of $50 on a good day. Not today though! Today you can snag the Little Tikes Fish 'n Splash Water Table from Walmart.ca on clearance sale for just $23. That sure beats the original price of $46.67, don't you think?
Out of 17 user reviews on Walmart.ca, this Little Tikes Fish 'n Splash Water Table still boasts a strong 5 star rating. That means nobody had any issues out of 17 people that purchased this product, and you probably won't have any issues either. This table is best suited for kids aged 1 through 3, but I have seen kids a bit older playing with them as well. This water table is both fun and durable, which will keep both you and the kiddos happy. Your children can use the water to fill the fishbowl until it tips over and makes a big splash wave. There are 5 floating critters, a water cup and a fishing rod and net included as well.
My three year old son loves playing with his toy fishing rod and toy fish in the bath tub, so I am sure he would love to have a water table like this for the back yard. If you are brave enough you could probably set it up in your kitchen or bathroom too, but I don't think I am that brave after seeing my little one splash like crazy in the bath tub.
Your best bet is to spend $50 at Walmart.ca to get your shipping costs included. Otherwise you can choose between two other free shipping options which include having your purchase sent to  your closest Canada Post Office for free, or getting your item sent to your closest Walmart Canada Grab & Go Lockers for free.
(Expiry: Unknown)