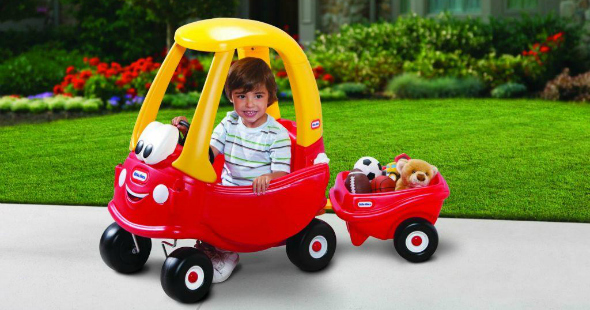 Another day, another pricey toy marked down to half its original cost. Thanks, Walmart! Originally $78, the Little Tikes 30th Anniversary Cozy Coupe with Trailer is now clearance priced at just $39.
These have been around for 30 years?! I think it says something about a toy when it's got that sort of longevity. Toys seem to come and go at a rapid rate as the next big thing is released but these fun ride-in cars have clearly stood the test of time. With 154 reviews (on Walmart.ca alone), 148 of which are 4- or 5-star, I think it's safe to say these toys are still very popular and very much loved.
Recommended for kiddos aged 3-5 (or up to 50 lbs.) this sturdy plastic ride-on has lots of great little details. The removable floor allows parents to push the car with the built-in handle, while protecting little feet or make it kid-powered. There are cup holders, a moving ignition switch and a gas cap that opens and closes. The front wheels spin 360 degrees for easy steering; the quiet ride tires are rugged and durable. The trailer attaches easily with the included hitch allowing kids to tote their toys and other treasures around, extending playtime for hours. Little Tikes also promises "easy" assembly.
I happened to see another listing at Walmart.ca for the Little Tikes 30th Anniversary Cozy Coupe so I clicked to investigate as I thought it might be a duplicate. It turns out, the car itself with no trailer, is still priced at $56.87! Why they are selling more for less, I'm not sure, but I'll take it! The trailer is available separately as well and is also marked down 50% to $14 but they appear to only have it in pink. Assuming that price point, you're essentially paying $39 for an $86.80 package. That's a pretty great deal!
I found this same set selling elsewhere for as much as $121.59 (oh, Amazon...you and your fickle pricing). More realistically, Best Buy has it on sale for $74.95; Toys R Us has just the car (albeit the "princess" edition) for $69.99. Bed Bath & Beyond also has it priced at $69.99.
Again, this great deal on the Little Tikes Cozy Coupe and Trailer is a clearance price so you'll want to jump on it quickly before they sell out!
Orders over $50 will ship free of charge from Walmart.ca. I was not presented with any other pick-up option upon checkout but perhaps that varies by market. Otherwise, top up your cart with $11 worth of some day-to-day essentials and get everything delivered to your door for free!
(Expires: Unknown)