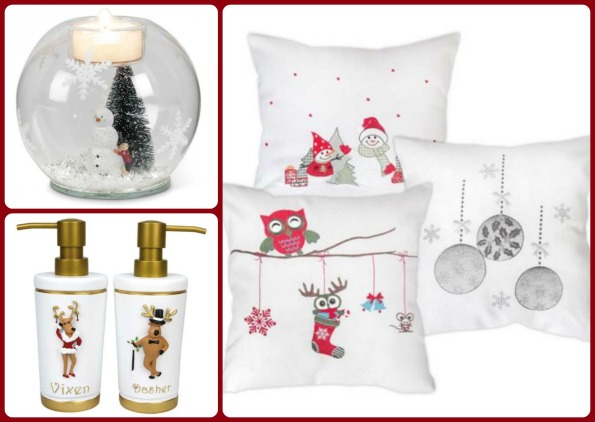 The Linen Chest Black Friday sale is on! Shop at LinenChest.com and you can take an extra 30% off all bedding, an extra 20% off everything else and get free shipping with no minimum purchase. They even have some adorable Christmas stuff to pack with these discounts.
While I wouldn't normally shop at Linen Chest, I did find that they have several Christmas decorations and Christmas items available for really reasonable prices. When you add the 20% off and free shipping for Black Friday, you have yourself a deal.
Let's take a look at some of the Christmas items available during the Black Friday sale at LinenChest.com, shall we? Do you use trivets? You might use them if they were this cute. LinenChest.com has these Square Christmas Sketch Trivets on sale for $11.96 from $14.95. This is a set of 3, so essentially they are just under $4 each.
Oh my gosh. These Christmas Cushions with Embroidery are totally cute. They were originally $29.95 and on sale for $23.96 for each pillow. I love the one with the owl in the stocking, especially since a lot of my living room decor is candy skulls and owls. I need two of these for my living room!
Here's another adorable item that I just had to add to my shopping cart at LinenChest.com. These Reindeer Lotion Dispensers are too cute. I have been looking for them since last year, or something like them at least. These lotion dispensers are a great way to put out hand soap in your bathroom during the holiday season. They were originally $24.95 and are on sale for $19.96. That is the price for each dispenser, so if you want both Dasher and Vixen then you are going to pay just under $40 for the pair.
Normally shipping rates would cost you a small fortune at LinenChest.com, so seeing free shipping with no minimum is super... and also rare. Normally your shipping rates would work like this:
Spend $0-$30 -> pay $9.50
Spend $30 - $99 -> pay $13.95
Spend $100 - $150 -> pay $15.95
Spend $150 - $200 -> pay $20.95
So Moosers, did you snag anything from the Linen Chest Black Friday sale?
(Expiry: 27th November 2015 - extended??)