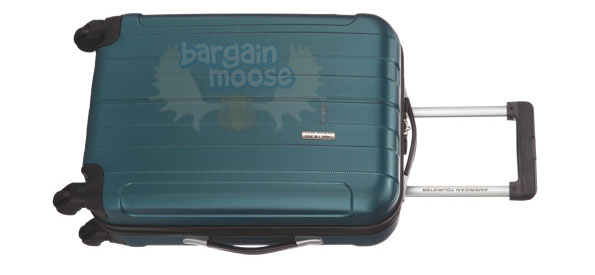 Quick! Head over to Best Buy to grab the American Tourister Galiano 20" hard side carry-on luggage in teal for just $49.99. It's $120 off, which means it was originally priced as high as $169.99! Shipping is free as well as Best Buy ships orders over $25 for free.
Just to give you an idea of how awesome this deal is, check out the American Tourister Galiano 3-piece luggage set in the same colour. It's currently priced as high as $569.99! Granted, if you only get the carry-on for $49.99, you would be missing the other pieces in the set but really, you just can't go wrong at that price, especially for a hard side piece. Plus, maybe Best Buy will discount the other pieces shortly as well. I wouldn't necessarily count on it but you never know!
The Galiano carry on is a 20" hard side spinner suitcase that has a 41L capacity. It also features side and top carry handles, along with 360-degree spinner wheels for easy manoeuvring.
For me, the most important detail when choosing any kind of luggage is the weight. This carry-on weighs 3.1kg, which certainly isn't too bad. It's certainly better to go with a handbag of sorts if you don't have much stock to carry, but if some of the things you need to bring are large and require more room, then a carry-on is the way to go and the Galiano's weight is reasonable.
In the course that it took me to write up this post, the number of suitcases left at Best Buy dropped from 18 to 13. So, although this deal is set to expire in the third week of July, I suggest that you get it as soon as possible if you're interested by it. The 71% discount is pretty phenomenal and one that you're sure not to see any time soon again. The fact that it includes free shipping is also pretty cool as well as all you need to do is order and wait for it to arrive right at your door.
(Expiry: 23rd July 2015 or while supplies last)