Leons.ca: 12 Deals of Christmas - Deal #1: $100 off Phyllo Klik Klak Couch/Bed (Pay only $149!!!)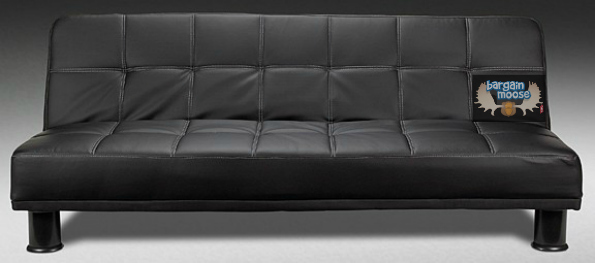 Look. Over against the wall! It's a bed! It's a couch!! Actually, I'm pretty sure it's an awesome looking futon at an incredible price from Leon's Canada.
 Click here to get your couch/bed @ Leons.ca
Coupon Code: COMET
Discount: $100 off Phyllo Klik Klak Couch/Bed
Expiry: 2nd December 2012
Right off that bat I need you to note that this is an ONLINE only thing. If you show up in the store looking for this deal, the staff have been explicitly instructed to spit in your face. If you enter the coupon code at the online checkout, though, you will get $100 off a $249 couch/bed. You only pay $149!
That out of the way I would like to serenade you with the product description from the Leon's website:
Our Phyllo klik klak bed easily converts to a comfortable sleeping area for unexpected guests. Perfect for a living room or bedroom, it provides an affordable solution to today's smaller living areas. The rich style includes modern tufted details, contrasting baseball stitching and a midnight black finish.
I think this piece of furniture has some great use cases. It would be awesome in a kids room. How much would your kid love having a couch in their bedroom? All their friends could pile up on it and hang out then when it's time for a sleepover, it's a spare bed. It would also be great, since it's a small couch, to put in that spare room that is just a little too small for a full bed or couch. I find this happens a lot in older houses. There is often some room that, 200 years ago, when the house was built, was used for something else but now it's just a random little room that you don't really know what to do with. This would be great for a room like that.
What would you use this couch/bed for? Let us know in the comments below!
Expires: 2nd December 2012)