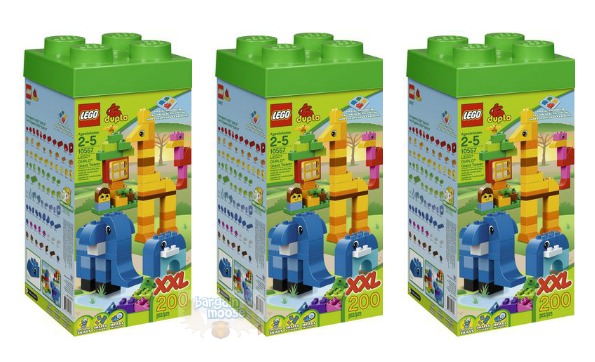 Walmart is offering a LEGO DUPLO Creative Play Giant Tower with 200 pieces for just $40 with free shipping for Black Friday. The last time we had a giant tower promo at Walmart it went like hot cakes so get on this offer fast.
Price comparing this unit is darn near impossible since it seems no one in Canada stocks it. However, I did find smaller creative play Duplo kits too so you can get some idea of the value of what you are buying.
135 piece kit @ Lego.ca - $59.99
95 piece kit @ Amazon.ca - $59.95
From what I can find based on US stores and prices, the original value of this tower was $60 to $70 USD. That does not mean it was ever available in Canada for that price (funny thing that), but it is at least something to go on.
This is a really sweet gift to younger children who are not old enough to play with the smaller Lego pieces yet. Lego Duplo is designed for ages two to five years old. This set features 200 brightly coloured bricks including faces, windows, flowers, and tons of rounded Duplo bricks for building. These bricks are easier on young fingers and on young mouths should the brick end up somewhere near that little black hole of destiny. They are also larger so easier for young hands to assemble.
I think this kit is the perfect Christmas gift and you would be insane not to buy it for your kids or grandkids. Also, do not just buy it for the boys; girls love this sort of thing too. I used to steal my brother's Lego all the time because I had a rampant imagination that extended beyond Barbie dolls. I loved building things with my hands as a kid.
Pick this deal up fast, as it will not last long!
(Expiry: unknown)