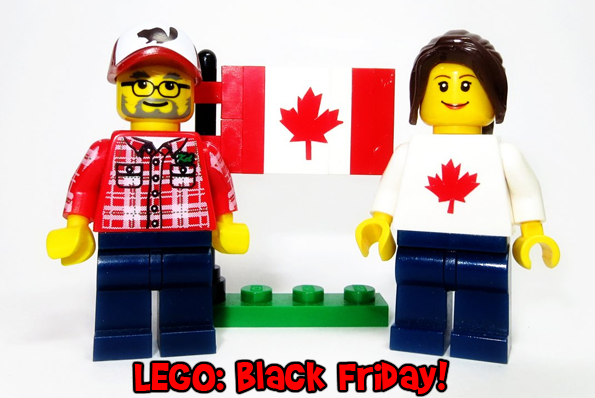 *** UPDATE - post now has more LEGO Black Friday deals and discounts below ***
LEGO! Here at Bargainmoose, we just LOVE the popular building toy. We're on the lookout for LEGO deals all throughout the year, but we'll be keeping our eyes peeled even more for LEGO Black Fridaydeals in this coming week. Some of these deals have already started and we'll list a few below, but we'll be watching for more LEGO deals and updating this post on the 27th November 2015 with more information!
Where to Find LEGO Deals in Canada
From my own extensive experience in deal finding, you can really best find LEGO deals from what I like to call the big three:
Amazon LEGO Deals
Here's a quick selection of what is on offer for Black Friday 2015 @ Amazon.ca:
Walmart LEGO Deals
Chapters LEGO Deals
Not much on offer at Chapters, just a few things:
We do sometimes see LEGO bargains from other stores, but it's the above three which seem to give the biggest discounts and best deals overall. Why just this morning, I highlighted this deal where you can save up to 50% off LEGO Friends items @ Amazon – that's still ongoing already sold out. When Walmart started their Black Friday preview sale, we saw an AMAZING deal on the large box of 1500 LEGO pieces for only $40 – but it did not last for long at that price!
We'll be scouring these stores on a daily basis and adding the best LEGO bargains to the Bargainmoose site.
More LEGO Discounts & Deals
We will also be keeping our eye on these Canadian stores:
Deals now available at Toys R Us Canada:
More stores:
We find that the deals aren't often as hot at these retailers, but sometimes a really good deal pops out and we'd highlight it and let you know.
The LEGO Store
Now, there is a Canadian facing storefront of the LEGO store online and it sometimes has good deals.
First up – the sale items. These are a few of the items that are discounted in the Black Friday sale:
The LEGO Store is offering a pretty AMAZING gift with purchase on all orders of $99 or more. They will be giving this limited edition LEGO Gingerbread housewith your purchase. I think it's worth around $10 US, but you cannot actually buy it separately as it's a promotional item and only available in this Brick Friday sale.
Are you buying LEGO?
Is LEGO on your Christmas list? Are there any specific items or ranges that you want to buy? Please comment below and we will help you find the best deals in Canada!