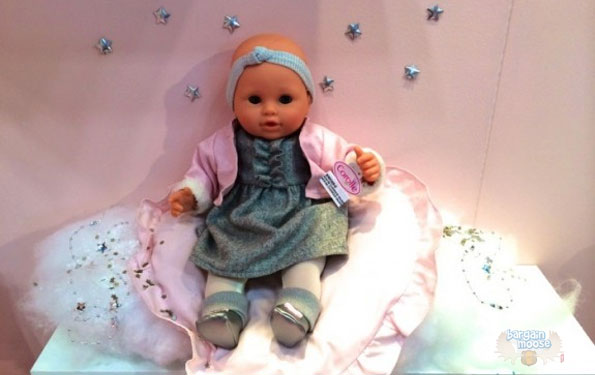 Give your little girl a best friend like no other: the Mon Classique Corolle bebe doll valentin from Learning Toys. Originally priced at $79.99, you can now get it for $75.99 with our Bargainmoose exclusive and also get a free outfit with it. Since shipping is free, you're also sure to have it shipped for free as well.
Click here to get the Mon Classique Corolle bebe doll valentin @ LearningToys.ca now
Coupon Code: MOOSE5
Discount: 5% off any order with select purchase
Expiry: 5th November 2014
Suitable for kids ages 2 years and up, the Mon Classique Corolle bebe doll valentin is sure to become a favourite right away. She weighs 531g, measures as high as 36cm (14") and is a soft-bodied doll perfect for cuddling.
According to the Learning Toys' skills list, this doll is meant to work "creaitivity & imagination" as well as "verbal & communication". Interestingly enough, this doll can sit unassisted and even suck her own thumb just like a real baby. On Amazon Marketplace, this same doll is actually $169.59.
Once you enter the code at checkout, the "Corolle free fashion offer" will also automatically be added to your cart. The specific outfit that you will be getting is a bit of a mystery but judging by how all My Corolle outfits are upwards of $20, then you can be sure that it will be a good one, especially since you will already be saving on the doll itself and be getting free shipping with it as well.
There are a couple of other Mon Classique Corolle dolls or even Mon Premier Corolle dolls to save on as well, along with outfits for these. In fact, with purchase or any Mon Classique Corolle or Mon Premier Corolle dolls, the Bargainmoose exclusive Learning Toys coupon code above will also allow you to save 5% off anything else site wide. This would be a great opportunity to also get another outfit for either the doll mentioned above or any other. The Paris party dress, for instance, is super cute and fashion forward. It's a gold dress and comes with a purple headband. Since it's $26.99, it would come down to $25.64.
The line of Mon Premier Corolle dolls is designed for babies from 18 months and up and are smaller than the Classique dolls. Although she is nowhere near ready for it yet, the one I would get for my little one is the Mon Premier Corolle calin Paris party for $38 (reg. $39.99).