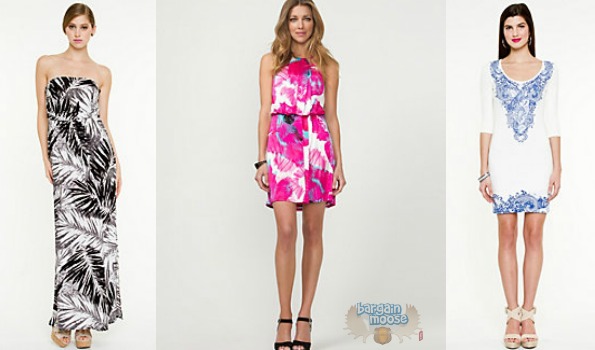 With this gorgeous spring weather we are having in Ontario, it puts me in the mood for shopping for short dresses and other pretty, frilly things. I found this floral print knit halter dress at Le Chateau this morning and I am in love. Regularly $99.95, it is on sale for $39.99. I added our exclusive coupon code BARGAINMOOSE15 that is good today only on anything on site and my total came down to $33.99. The only sad part is that to get free shipping (or else pay $7.95), I'll have to fill my cart to $100. But, maybe that isn't really all that sad - more pretty, frilly things for me!
Just looking at this dress makes me think of summer fun. With a bold floral print and soft layers, this is such a feminine statement that every woman should have in her wardrobe. I could see this dress being dressed up with heels and bling, or dressed down with casual flip-flops and a towel.
What I love about this dress for me is the halter style, as so many dresses are just too low-cut at the chest for me. I also love the combination of hot pink, ivory and turquoise. Almost all sizes are available - XXS, M, L, and XL. I think that covers the majority of us.
Filling my cart to $100 was easy, as I found a ton of other sweet deals at Le Chateau. I absolutely adore this embroidered gauze skirt as it just seems like the perfect go-with-anything skirt for summer. It's not boring either, with the fine detailing around the hem. I love the belt the model is wearing with it too! Regularly $39.95 and on sale for $29.99, it comes down to $25.49.
To wear with that skirt, I select this knit cowl neck sleeveless top. The mint colour is not like anything I have in my wardrobe. It is already a steal, regularly $29.95, on sale for $9.99 and comes down to $8.49.
Like I said, this deal is only on today, so you'll want to take advantage while the sizes are still available.
(Expiry: 26th May 2015)