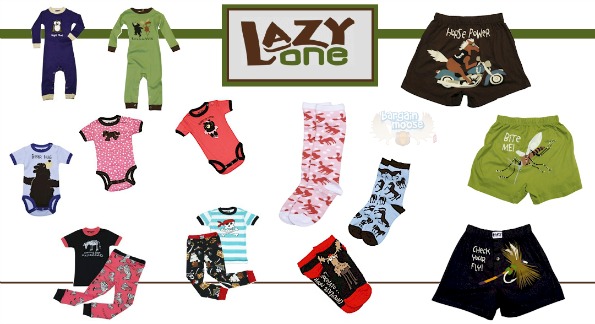 LazyOne Canada rarely has coupon codes so I am pleased to share with you a discount code for 5% off your purchase of regular and clearance items. Currently they have a clearance section packed full of items up to 40% off.
Click here to shop @ LazyOne PJs Canada now
Coupon Code: FACEBOOK5
Discount: 5% off
Expiry: unknown
I am busy thinking of all the things I like when winter comes around. I already mentioned candles, and warm pajamas are most certainly near the top of my list. Once I figured out that you could use this coupon code on top of clearance items, I got down to the business of finding awesome pajamas.
I always try to think of what I would buy if I had the money to shop each sale. Easily, I would buy these Fleur De Lys Women's Boxers. I love the colour combination of blue and white and I have always been fond of the Fleur pattern. The boxers are 100% cotton and look very comfortable! To fit my hips I would need a size extra-large, so thankfully the drawstring waist would accommodate my smaller ratio in the middle. Originally $18.99, they are now on sale for $10.39. After coupon code, they come down to just $9.87.
I think my boss should buy my fellow bloggers and I all Peace, Love & Moose Yoga Pants for Christmas. Is there nothing that better describes are darling little chunk of internet? I am not big on the pink background, but these warm bottoms are sure to keep you happy and in a money saving spirit all winter long. Originally $29.99, they are on sale for $17.99. After coupon code, pay $17.09.
One cannot forget a pair of nice warm socks to keep your toes cozy as well. These Green White Moose Crew Socks for $6.99 (was $9.99) will only cost you $6.64 after discount and coupon.
Many items have matching tops and bottoms. There are also pajamas for children and onesies for infants in the sale as well. Continuing with the Moose theme, you cannot go wrong with the Dotty Moose Creeper for just $10.82 after coupon and discounts (was $18.99).
Coupon codes can be entered on the view cart page or on Step five at checkout. Shipping depends on how much you buy and where it is going. Lazy One Canada offers free shipping on orders of $100 or more. You may want to place an order with a few friends if regular shipping charges are too high.
For this and future LazyOne coupon codes, visit our forum.