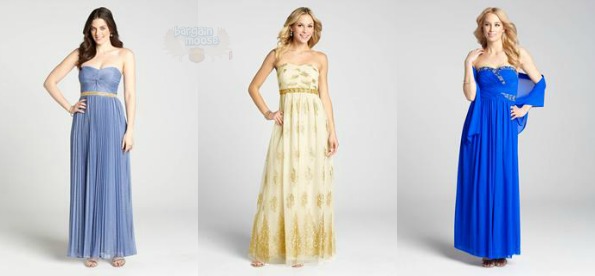 We are all about putting our nose to the metaphoric grindstone and finding you stellar deals. Well my sweet Moosers, I think I came up with a winner this time. Receive a startling 80% off the stunning Strapless Beaded Empire Waist Gown at Laura Canada. Originally $295, the dress is on sale for just $59.99.
This dress comes in pastel blue with an accenting empire waist detailing in gold and silver. The bust features a knotted bustier with a pleated skirt shimmering with beads. It is like looking into the early night sky as the stars start to come out. The entire gown looks glamourous and is perfect for graduations, parties, or whenever you feel like living the glamorous life. Get into the dress via a back zip with an eye and hook closure for added safety. The dress is lined so that nothing peaks through. Feel free to wear your leopard print undies, who will know?
Unfortunately, not a lot of sizes are still available. If you are a size four, six, or 10 then purchase your dress as soon as possible as I assume these will sell out quickly as others have.
I found a few other notable deals with decent size ranges. The Strapless Empire Waist Embellished Gown is a personal favourite of mine as it looks like a dress for a princess. I love the gold embellishments and the full skirt. Originally $295, this gown is on sale for $69.99. As one reviewer says:
I feel like a princess in this gown when I look in the mirror...the belle of the ball....I love the shimmer & sparkle.....can be worn all year round.......the gown is not itchy since it is mostly lined all over....The only negative comment is at the topmost part of the gown near the decolletage which is approx. 1 cm in height, the gold sparkle that directly touches the body is itchy since it is not lined.
While at a slightly higher price, the following two dresses have several sizes in stock each. First of all, the Strapless Beaded Gown with Shawl in vibrant blue is truly a beauty. The beaded bodice makes for a strong accent around the top of the cups. Originally $295, the dress is now $79.99 and available in sizes four, six, eight, and 10.
The Faux Diamond Beaded Cleo Neck Gown is the only non-strapless option out of these four dresses. The dress features a beaded neck and centerpiece. Originally $295, this dress is also on sale for $79.99 in sizes four, six, and eight.
Shipping costs a flat rate of $7.95.
(Expiry: Unknown)