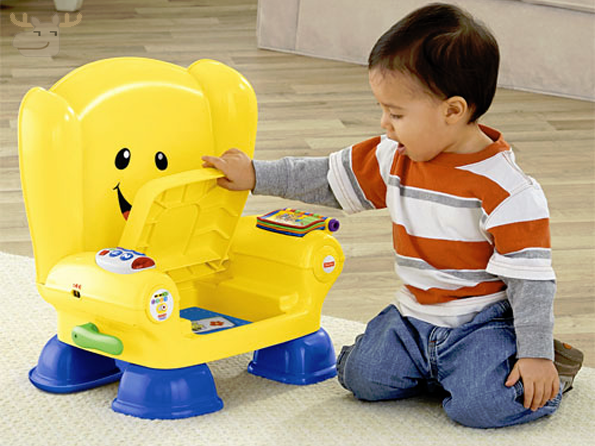 **Bump: This chair dropped even more @ Amazon Canada with FREE shipping**
Anyone on the lookout for a "Santa gift" for a little one this Christmas? I've got one such item that you might want your little one to have on their list – it's the Fisher Price Laugh & Learn Smart Stages Chair and it's currently on sale at Amazon Canada. This toy was priced at $49.99 but you can get it now for only $28.49. Now, that might not sound like a huge amount of discount in and of itself, but this item rarely drops as low as this in price and it's quite a bit more expensive elsewhere too.
The Laugh & Learn Smart Stages Chair can be used for the age group of 1 to 3 years. It's a "magic" ABC seat which knows when baby sits, and it activates learning songs and phrases when the child stands. The chair has the ability for you to select the level which your child is at, and it gives out age-appropriate songs and rhymes in doing so. This is a great idea – all too often, my little ones grow uninterested with a toy after a few days!
If you want to get this Fisher Price toy now, then you can order online. Shipping would cost a little extra if you're buying it on its own though. If you want to, I'd recommend buying online and collecting for free at your local Canada Post or Grab & Go location. Alternatively, chuck a few more items in your cart, bring it up to $50 or more to get free home shipping. Shipping is free on orders of $25 or more as this item is sold by Amazon Canada.
Now, this Fisher Price toy WAS slightly cheaper in the past, but that was back on Black Friday last year and I haven't seen it this low since then. Just now, it's priced at $50 at Toys R Us, $50 at London Drugs and $34.97 at Walmart. As you can see, the Amazon price outstrips the competition by quite a bit.
I found a review of the Laugh & Learn chair here on Ohbabymagazine, if you'd like to have a read. The reviewer there was extremely pleased with the toy, coming out with such lines as:
This toy is the first toy in my house that creates harmony rather than discord.
Doesn't that sound ideal?
(Expires: unknown)