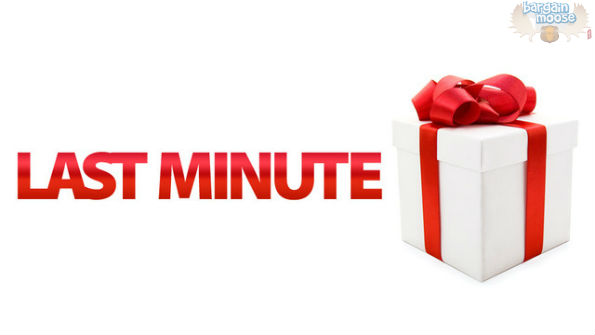 It's Christmas Eve and you still haven't done any shopping? Terrible, just terrible. Well, I have your solution! Read on, MacBeth
I hope most of you have already finished shopping but sometimes things come up. Maybe you just woke from a coma yesterday and you'd rather get hit in the head with a hammer than go to the malls. Maybe you just realized that you forgot to buy a present for Cousin Alphonse who is visiting from his job as the Kuwaiti Ambassador to The Replublic of Tonga.Perhaps your significant other just pulled out nine more presents and you are feeling a little less than adequate. Whatever the reason, Bargainmoose has your back and we won't judge you, we promise.
Google Play - There is no "gifting" feature on Google Play (yet) so you need to get a hold of their account and add your credit card to it. From there you can buy them credit by clicking "Buy Google Play Credit" on the bottom of the Google Play website or buy them an app (or book or movie or magazine) directly from the Google Play Store. Make sure you remove your credit card when you're done!
iTunes - Apple makes it a bit easier. You can use this link to get instructions on gifting iTunes items. It's pretty straight forward and you don't have to get access to someone elses account to do it. Books, Apps, Music, whatever they sell, you can gift.
Comixology -Comixology has a great gifting feature that lets you buy comics for other people. You just find whatever you want to give, click the little present icon and checkout. It'll ask you for the recipients name, email address and a message to send to them. Super simple.
Newspaper/Magazine Subscription - You can do this with a local newspaper or a national newspaper or magazine such as the Globe and Mail or Maclean's. If it is a local newspaper they might not have an online subscription option but the biggers ones do. Some of them even give you online or app versions of the newspaper of magazine so the recipient can go online and enjoy their present immediately. The Globe and Mail has Kobo and Kindle editions which flows nicely into my next topix.
eBooks - There are a lot of eBook stores out there. Some have a gift feature and some don't. The bigger ones are Amazon and Kobo, both of which do gifting. I've giften dozens of copies of the book I wrote on Amazon and it works very well. You can also use the Google Play strategy of getting into their account and temporarily adding your credit card if gifting isn't supported.
Games - there are tons of online game retailers. Most of them, it seems, don't allow gifting but the big guns of the industry, Steam, does so head on over to Steam and pick up some games. They have some great holiday sales. On a side note, Steam has some great Boxing Sales.
Vouchers/gift cards - there are a lot of retailers who offer online gift cards and places like WagJag offer printable vouchers that can be redeemed for products and services..
Special thanks to Avigayil Morris for helping me on this article!