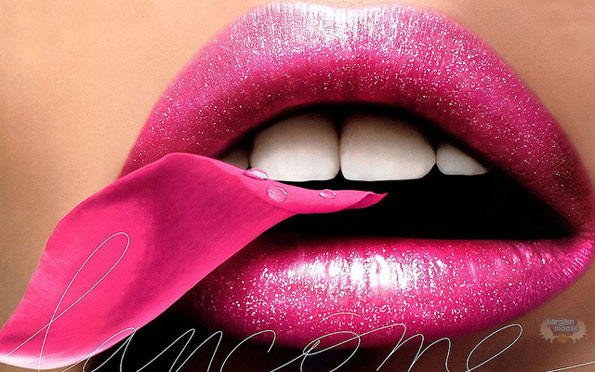 There is something absolutely special about Lancome, isn't there? Just the name itself conveys an element of elegance and level of superiority over other brands but it's exactly for this reason that its merchandise can also be quite pricey. Luckily, you can take advantage of an amazing offer right now. While supplies last, if you shop for over $35 at Lancome, then you can also add a limited edition 9-piece collection for just $55 - that's 75% off its $215 value!
To take advantage of this offer, you simply need to shop for at least $35. Once you have done so, a message will automatically pop up asking if you want to add a beauty box for just $55. To test it out, I added the Grandiose wide-angle fan effect mascara for $35 to my basket and as soon as I did, this is the message that appeared: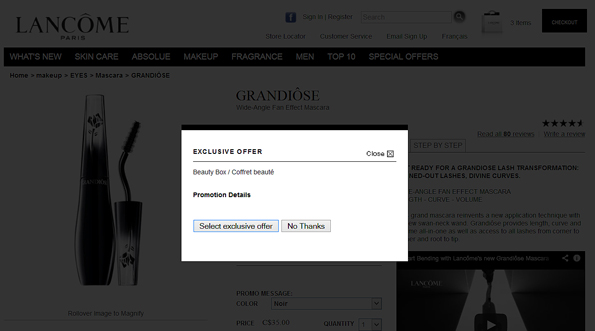 A couple of Moosers have let us know that they didn't get the pop-up but don't fret because once you hit check checkout section, you will find the beauty box in your cart.
The 9-piece limited edition collection includes all of the following:
Advanced Génifique youth activating concentrate - 8ml
Visionnaire advanced skin corrector - 7ml
Bi-Facil double-action makeup remover - 125ml
Hypnôse Star show-stopping volume mascara base
Cils Booster XL super-enhancing mascara base
Color Design sensational effects lipcolor vintage rose
Blush Subtil delicate oil-free powder blush sheer amourose
Color Design eye brightening all-in-one 5 shadow & liner palette in ruby affair
Juicy Tube ultra shiny lipgloss dreamsicle - 10ml
Some of you may remember that I have mentioned in the past how much my mom loves Lancome and more specifically, their Juicy Tubes. After I asked her last year what she wanted for her birthday, she mentioned how much she loves Lancome's Juicy Tubes and I figured, "no biggie". Well, "no biggie" turned out to be quite pricey as each tube typically retails for $22. That's a lot for a small tube of lip gloss but you do pay for what you get as the product is definitely well worth it. So the fact that the 9-piece limited edition collection comes with a free tube, albeit a 10ml one, is actually convincing enough for me to get this set for my mom! In fact, even 10ml isn't that far off from the 15ml full tube capacity.
I also had a look at Advanced Génifique and a 30ml is actually as high as $96! So if you want to try some of these products without shelling out hundreds out dollars for potentially nothing, then this collection is the way to go.
Plus, if you take advantage of this offer, then your order total is sure to amount to at least $90, which means that it will also qualify for free shipping as Lancome automatically ships all orders over $85 for free. Alternatively, if you shop for over $50, then you can also enter the Lancome promo code: FALLGIFT to get a 5-piece sample gift set for free but these two promotions can't be redeem simultaneously. It's up to you to decide which one you prefer as a freebie is always great but personally, I would prefer the 9-piece collection considering its $215 value. What do you prefer?
(Image Credit: myheimu)
(Expiry: Unknown)