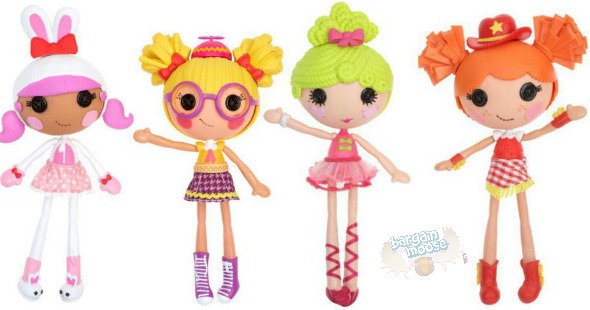 Sometimes I find parents are Lala-loopy to buy full priced toys. As a frugal parent, I am constantly trying to find my son's favourite toys at a discounted price. If your daughter loves Lalaloopsy dolls, then you're in luck. Walmart Canada has a clearance sale on the Lalaloopsy Workshop Doll Double Pack right now. Instead of paying $29, you will pay just $18 which is the lowest price around. You will even get free shipping.
The Lalaloopsy Workshop Doll Double Pack comes with two dolls. You can choose from a variety of options, including:
 Ballerina & Cowgirl
Bunny & Nerd
Princess & Clown
All of the choices available are just $18 instead of $29, so you won't miss out on the discounts that's for sure. Unfortunately the Mermaid & Pirate set are sold out, which seems to be one of the more popular Lalaloopsy Double Pack options. You can add a few of these packs to your cart, or just one if you wish. Either way you will receive free shipping since Walmart.ca offers that with no minimum purchase. The next best price I was able to find on these Lalaloopsy Double Packs was at Amazon.ca. Amazon Canada has the Clown & Ballerina doll set for just $22, but all of the other packs still retail for $28+ everywhere else. You also won't get free shipping at Amazon unless you spend over $25.
If you do purchase more than one set of these adorable Lalaloopsy dolls, you'll be happy to know that you can mix and match all of their expressions, hair, clothing and even accessories. You can create your very own unique Lalaloopsy doll. I would personally go for the Ballerina & Cowgirl pack, since I have horses. Although I would love to put the Nerd's glasses and Pirate's hair on the Cowgirl to make her look a little more like myself as a child.
Each Lalaloopsy Double Pack from Walmart.ca includes the following items:
2 heads
2 torsos
arms
legs
2 hair styles
clothing
accessories
Because of all of the small parts,  I wouldn't suggest these dolls for kids under the age of 3. You might also find yourself purchasing single packs in the future, as the small fashion accessories may easily go missing. Your kids will love to take the dolls apart and put them back together though. I don't see any reviews for this product on Walmart Canada's website, but the Amazon Canada reviews seem very positive. I don't think you will be let down with this product.
(Expiry: Unknown)