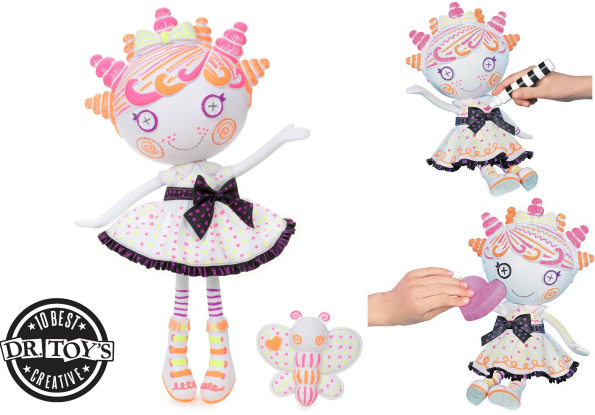 I am a big fan of creative toys and this Lalaloopsy Color Me Squiggles N' Shapes Doll is certainly creative! Give your child a blank (white) Lalaloopsy doll and let them design her outfit, colour her hair, draw designs on her face, and even colour her pet. Originally $39.99, the doll is now on sale for $26.66. Use coupon code941612464 to take an extra $10 off this sale price, bringing the doll down to $16.66. as per usual, Sears offers free shipping to over 1300 locations across Canada.
If you are not familiar with the story of these dolls, The Lalaloopsy dolls were once rag dolls who magically came to life. They took on the personalities of the materials used to make them so no two were alike. You can now add your own personal Lalaloopsy to your collection with this Colour Me Doll. The doll comes with four markers, two stampers, one sponge, the doll, and a pet butterfly.
Your child can use the markers to draw and colour designs onto their doll and the doll's pet. Create unique patterns, funky designs, and great colour combinations on this Lalaloopsy doll. Then, make her bet butterfly match or stand out. The stampers can stamp cool designs on the doll as well.
Your child can design every inch of this doll as her entire body is white. Not only can they design the doll, they can also colour in her clothing as well. Everything washes off so the doll is ready to be designed again and again. This 13" doll is quite a generous size and is designed for ages four to 10 years old.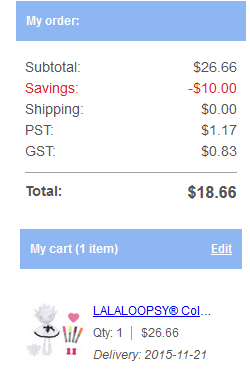 I have seen some really adorable Lalaloopsy dolls, but I think this one takes the cake for creativity. I price compared this doll with a few other places to make sure it was a worthwhile deal. The same doll costs $29.99 at Amazon right now, and the black version costs $39.99 at Toys R Us but is out of stock. I checked at Amazon.com, where the doll is on sale for $21.84 USD and has a 3.7/5 star rating with over 150 reviews.
This is a solid toy at a solid price. Will this toy find its way under your Christmas tree this year? (Not available in Quebec).
(Expiry: Unknown)