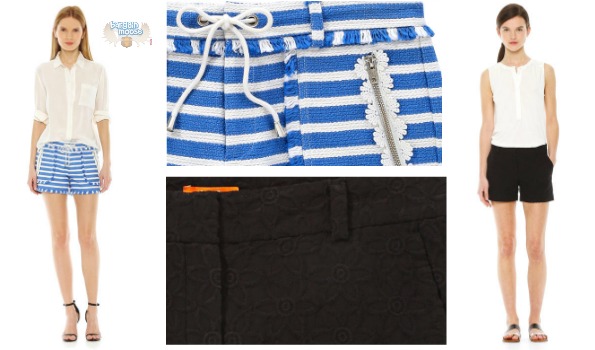 Summer is here and that means shorts. Check out the Ladies Striped Fringe shorts that were $49 and are on sale for $9.94. You can shave a little more off that price with our exclusive coupon code, knocking the price down to $9.44.
My legs feel the freedom of sunshine! It is time to mix things up with a little summertime spunk. Summer is short here in Canada, so show off that summertime style with these cute striped shorts. Use the exclusive coupon code MOOSESALE to receive an extra 5% off your order.
These blue striped shorts pair easily with a plain coloured top to give you an effortless look without having to dig for accessories. The model has a breezy collared shirt, but they would look just as cute with a fitted tee or tank top. While I do love a good chunky necklace to dress up an outfit, these shorts will make the outfit all on their own. You will not need many accessories to pull off this chic look. You should also find these shorts comfortable with a drawstring waist and fabric made of 70% cotton. These shorts are available in sizes zero to twelve.
The nights are just as warm as the daytime the last few days. When I am too warm, I find it next to impossible to sleep. Check out the breezyPrint Sateen Sleep Short. These shorts were $14 but are on sale for $4.94. The price drops a little more to $4.69 when you use our coupon code. These shorts have a summer feel with a red and pink tulip graphic print. Breezy sateen will keep you cool and comfortable through all the warm nights ahead. You can find these sleep shorts in sizes medium, large and extra-large.
For those looking for a few extra pairs of solid shorts, check out the Flower Embroidery Short available in black. This cute piece was $29 and is on sale for $14.94. With the coupon code, your total will be only $14.19. These shorts are black with a black embroidered flower. The textured look makes this piece look more expensive than the sale price. I can see this stylish woman effortlessly transitioning from a family party to a casual picnic date in these shorts.
Unfortunately, shipping is not free today. You will pay a flat rate of $8 or shipping. I recommend filling your cart with goodies to maximize your summer wardrobe and your shipping costs. There are many other great deals in Joe Fresh's sale section today. Sizing can sometimes be spotty on specific items when the discounts are this good, so I recommend filtering by your size at the top of the page. I am finding the sale section has a lot of choices today making it is a great time to shop.
Thank you to Bargainmooser FeliciaCfor mentioning this deal in the Hot Deals forums.
(Expiry: Unknown)