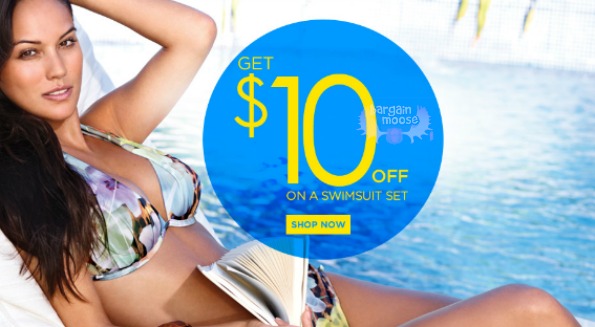 Get $10 off the purchase of a swim set at La Vie en Rose right now.
The hot weather is coming! Time to pull out all your old, last-year swimsuits and realize that all the elastic is stretched out and the bottoms are balled up from all those water slides and sitting on the sand. Well, might as well get a new swim set, and at $10 off, why not?
I'm all about getting the most flattering suit for your body type. Although I would say I am of average size, my tummy gives me so much grief after having three children. So, the best kind of suits for me are high-waisted, ones with ruching around the tummy and skirts with tanks. Dark colours also seem to suit me better than bright pinks.
The entire line of this soft solid jewel mix and matching high rise bikini bottom (Style #:664-721-0-34_373)is absolutely perfect! The high waist, dark colour and the textured belt all lend to a flatter looking stomach area (regularly $39.95). I really love the tankini top (Style #:664-712-0-34_373)to match because halters are always very flattering, and it looks like there is some support for the bust (regularly $52.95). Get both items for only $75.90.
I have been searching everywhere for a bathing suit top with wire cups, and this one is absolutely perfect, with lots of support up top, as you can see from the picture, in a scales pattern (Style #:642-722-0-34), regularly $41.95. There are a number of bottoms to choose from, but I think I like this bikini bottom with side gathers (Style #:642-713-0-34_375), although I'd say this is for someone with a flatter stomach, but the side gathers will decrease the look of the hips and thighs (regularly $34.95). Get both for only $66.90.
Shipping is free on orders over $75.
(Expiry: Unknown)