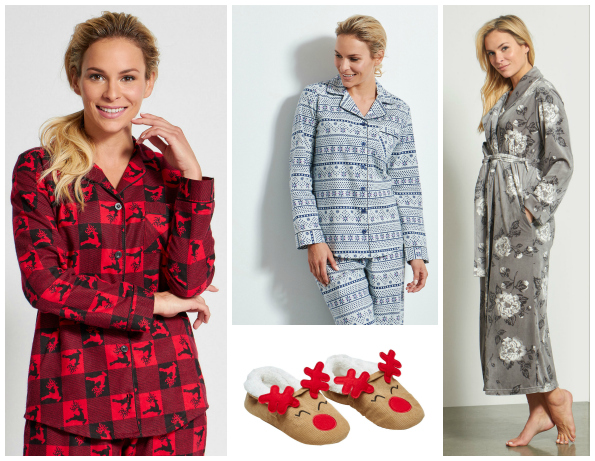 La Vie En Rose has a 2 for 1 sale on that translates into 50% off site-wide (on pairs of items) in honour of Black Friday. This is a great time to pick up loungewear, bras, panties, and more on a budget.
Christmas is coming, so now is the time to stock pick up some warm pyjama sets. I checked out the $34.95 PJ Sets at La Vie En Rose and they include some really cute holiday sets including reindeer, penguins, and winter-theme. These are all button-up fleece sets that will be super warm come snowfall. Buy two and get both for $34.95, which works out to $17.48 each set.
You need a warm pair of slippers to go with your new pyjama set. Pick up these adorable Reindeer Slippers in honour of Rudolf. They cost $19.95. I think they might be the most adorable slippers I have seen so far this year. Then pick up a set of Panda Slippers either for you or a friend. You will get both for $19.95, or only $9.98 each.
You may want to treat yourself to a decadent robe and I found a couple on sale! The Hooded Flannel Robe was $49.95 and is now $39.99. I love hooded robes because I can snuggle in deep.
The ankle-length Fleece Robe was $59.95 and is now $47.99. I really like this robe because it is full-length. I am short (5'3) so a 52" robe gives me a lot of coverage. Save 50% on both when you add items as pairs. The Flannel robe comes down to $19.99 and the fleece robe comes down to $23.99.

According to la Vie En Rose, this offer is applicable on sale items as well as regular priced items. Certainly it worked on those two robes as you can see above.
All you need to do is stick two items in your cart and 50% off will apply to each of these items. That means you can fairly receive 50% off your entire order instead of just getting the lowest priced items for free. You need to just add even numbers of items to your cart.
La Vie En Rose offers free shipping on all orders of $75 or more. If you don't think you can make that minimum, try ordering with a friend! They also offer a flat shipping rate of $9 for orders under the free shipping minimum.
(Expiry: 28th November 2015 @ 2:59 AM EST)