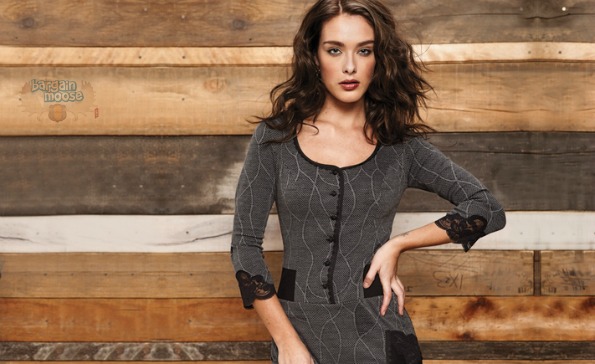 I ran across the brand Kollontai on my recent trip to Vancouver and it was probably my favourite find of all. They are a small Canadian owned company out of Montreal that creates made-in-Canada clothing. Right now they have a lovely sale section to pick up some deals in.
Kollontai was among one of my top finds in Vancouver last weekend. The quality of the material was very good, the stitching was well done, and I was really surprised when I looked at the label and it said 'Made in Canada.' Their style, for the most part, was also one of the most pleasing Canadian styles I had seen so far and most closely matched my own aesthetic. While the dress I really wanted didn't fit exactly in the shoulders, and the dress that fit like a glove was not my colour; the company made a very positive impression on me.
In their sale section I found this Sangria Petticoatwhich is delicious. Originally $98 it is now on sale for $68. Little black skirts like that are fantastic for pairing with almost anything, and a petticoat is also wonderful as a layering piece under other skirts.
I tried on the Dina Dress (which you can see in the picture above) while in a store and I will totally agree with their warning: go one size down! I am usually a large and I tried on a medium which fit like a glove. This dress really fits fantastically. It has enough stretch in the fabric to mold to your shape and yet it is still structured enough to give you some beautifully clean lines. The ONLY reason I did not buy this dress was because I look terrible in grey. This is the best fitting dress I have been in... in, well, probably years. Originally $168 it is now on sale for $117. I want it in red with black lace.
There are so many darling dresses, skirts, tops, pants, jackets, and more in this sale. Shipping is calculated at checkout and depends on where you are going, how much you are getting, etc. If you spend over $250 then your shipping will be free.
(Expiry: Unknown)