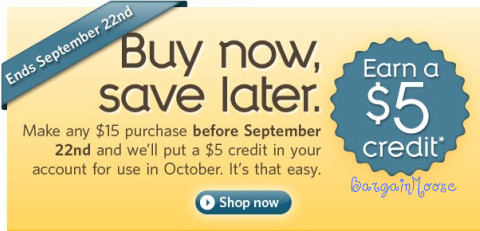 For any of you in the market for printing pictures or making photo books, you might want to consider placing your order with Kodakgallery before 12th September 2010. If you make a purchase of $15 or more you will receive a free $5 credit for the month of October. This will happen automatically, no coupon necessary.
The fine print says it best so here goes:
Offer ends September 22, 2010. No coupon code required. Spend $15 before tax and shipping and we'll place a $5 credit in your account for use between October 1st - October 8th, 2010. $5 credit cannot be combined with other offers or used towards shipping. Credits will be placed in accounts the week of September 27th. One $5 credit per customer. Cannot be combined with other offers. No substitutions, transfer rights or cash equivalents will be given. Coupon code or discount valid only on the English language version of Kodakgallery.ca.
So you will receive approx. 33.3% of your $15 back. :-D Exciting!
There are still other promotions going on at Kodak Canada, like 'spend $25 and get a free photo book' we mentioned HERE (go there as you will need a coupon code.. it was extended btw) so this is an EXCELLENT time to shop as that turns into a free photo book and $5 credit.