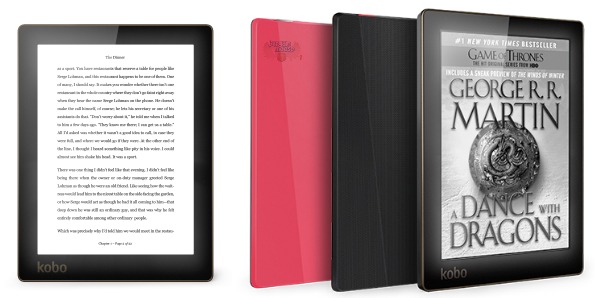 Kobo Books has the Kobo Aura on sale from $139.99 down to $99.99 right now. Use the coupon code siriusxm on your Kobo Aura order to purchase the Aura for just $89.99.
You can choose from pink or black. The pink sold out at one time but then was restocked so you may encounter that issue as it seems to be the more popular colour (or just has less stock). I just successfully used this coupon code on the Kobo Aura. I hope this deal holds out for a little bit so our Moosers can score a good deal too.
This is a popular sale device this year, and several other retailers have it at the first sale price:
$99.99 @ Chapters Indigo Canada
$99.99 @ The Source Canada
$139.98 @ Walmart Canada
$139.99 @ Future Shop Canada
$139.99 @ Best Buy Canada
However, none of the other retailers have it as low as Kobo does with this coupon code. You save that extra $10 and you will receive free shipping as well.
What makes the Kobo Aura a must have for eBook readers? Here is a rundown on the Aura's features from Kobo.
Kobo Aura is equipped with ClarityScreen, a low glare 6" high res Pearl E Ink screen now boasting a stunning 1014x758 resolution for a print on paper reading experience even in direct sunlight
The screen also has a ComfortLight, which is supposed to be the most comfortable and even light for reading they have developed yet. For those reading marathons at 2AM, you want something that does not produce eyestrain and that allows you to read at night as well.
Reviewers are very happy with the Kobo Aura overall. As one reviewer at Walmart said:
I had ordered the kobo aura i think it's amazing it's comfortable to hold for a long time while reading and i am very happy with my purchase,... i am definately buying two more for my grandparents as they Love to read just as much as i do
I bought a Kobo eReader for my mother a few years back and she loved it. it was light enough to carry around in her purse, the battery lasted for ages, and she could switch between different books she was reading. In addition, books tended to be cheaper digitally than they were in a bookstore. I think eReaders make a great gift for enthusiastic readers.
(Expiry: Unknown)