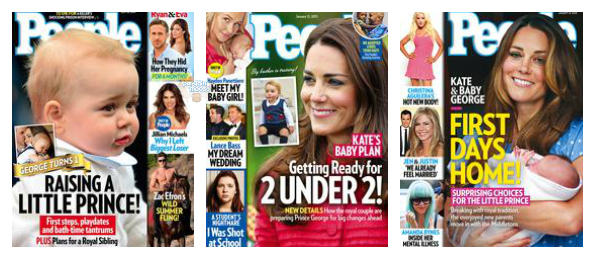 Kobo Books has discounted digital back issues of Royal Family issues in People Magazine. Usually, a single issue of People Magazine retails for $5.20. However, you can now purchase a selection of six royal family issues for just 99¢ each.
This is a great deal for several reasons. First, you are saving 81% off the regular retail price of single issues. As you can see here, single issues retail for $5.20 each. Even if you bought the annual subscription, $114.69 for approximately 52 issues, you are still paying over $2 per issue. This deal for the royal issues is less than half the annual subscription rate per issue.
The second reason I love this deal can be summed up in two words: royal baby. As some of you may know, Princess Kate (the Duchess of Cambridge) just had another baby! On Saturday, she gave birth to a baby girl. There is plenty of speculation as to what this child will be named... I have seen suggestions for Alice, Charlotte, and my personal favourite: Victoria.
If you have not kept up on the Royal Family's baby news... now is the time to be caught up. Most of the back issues you can purchase cover the birth of this new baby's big brother: Prince George. There is also a more recent issue from this January about getting ready for baby number two!
Overall, you can purchase six issues for 99¢ each:
January 12, 2015
November 3, 2014
July 28, 2014
April 21, 2014
September 2, 2013
August 12, 2013
I am not terribly interested in the Royals, but one of my best friends was born in England (and lives in Canada). I also have a friend who still lives in England so it is nice to keep up on this stuff as a conversation piece. It avoids those awkward moments when someone starts talking about the new royal baby and you go "wait... she is pregnant again?" That is sort of what I did last week... whoops!
Drop a comment below to let us know what you think the new princess's name will be. I am voting Victoria - I think it is a safe bet and a strong female name in the royal family.
(Expiry: Unknown)