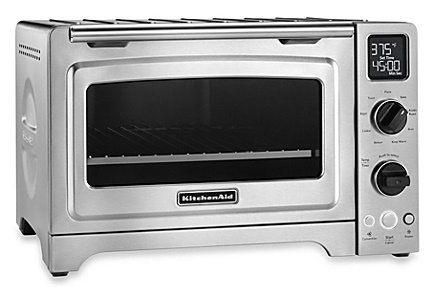 Fellow Mooser, Megan, had been watching the price on this particular Kitchenaid Countertop Oven for at least a year, and so far we have not seen the price hit any lower than $200. However, right now this Kitchenaid 12 Inch Convection Digital Countertop oven is on sale for a super hot price at Hudson's Bay Company. Thanks Megan for spotting this deal! It was originally $379.99 and is on sale for just $129.99. TheBay.com also has an additional 20% off orders over $100 when you pay with your HBC Credit Card, so you can score this fab item for as low as $103.99 including free shipping.
I think that this product may have been discontinued, which is why the price became so low. Either way, this is a super deal especially when you use your HBC Credit Card to score an additional 20% off the sale price. With shipping included, your total will come to just $117.51 including taxes. This is the absolute best price around on this product. Just take a look at my price comparison:
$249.99 @ Bed Bath & Beyond Canada
$279.99 @ Amazon.ca
This Kitchenaid 12 Inch Convection Digital Countertop Oven will let you enjoy the full-size oven performance on your kitchen counter. It has nine different memory settings for super cooking results. It even has an Asado Roast that will adjust the temperature for superior roasting. This will also ensure that your pizza crust is at the perfect level of crisp. It can fit up to a 12" pizza - yummy. If the kids or hubby decide to use it when you're out with the girls one night, don't fret. The interior is easy to just wipe clean.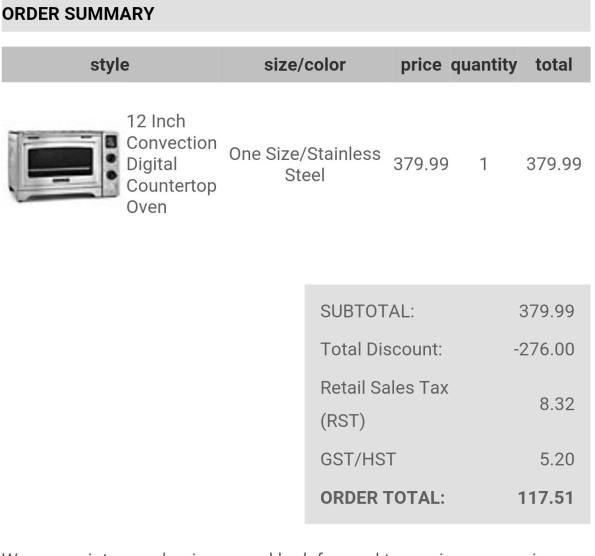 If this particular Kitchenaid Countertop oven doesn't suit your fancy, then you may be inclined to check out the Kitchenaid 12 Inch Convection Bake Countertop Oven which is also on sale. This countertop oven is the same size and has many of the same features, except it is "Bake" instead of "Digital". It was originally $229.99 and is on sale for $159.99. With the additional 20% off if you pay with your HBC Card, you will be left paying just $127.99 including shipping.
TheBay.com also offers free shipping on orders over $99, so luckily this item qualifies for that as well. Free shipping is definitely a deal sweetener, even when the deal is already hot like this one. Act fast, who knows how quick this popular countertop oven will sell out.
Moosers, what is your favourite thing to make in your countertop oven?
(Expiry: Unknown)