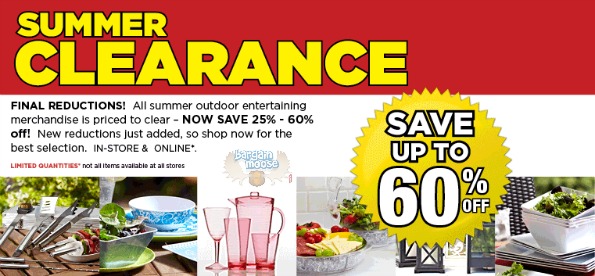 Kitchen Stuff Plus Canada is selling all their summer stock for up to 60% off. Sale is valid in-store and online for a limited time only while quantities last. Not all items are available at all stores.
Take a look at these Quad Dinnerware items for sale. The Quad Melamine Side Plate set was $7.99 and is now $3.19. The Melamine Dinner Plate set was $11.99 and now $4.79. Now add the Melamine Salad & Bowl set that was $15.99 and is now $6.39. I like the idea of these being both dishwasher and microwave safe.
Check out the Ripple Acrylic drink ware sale. This Ripple pitcher in green was $11.99 and is now $4.79 and these matching Ripple Double Old Fashioned Tumblers were $3.19 and are now $1.27. I find this a little upsetting as I purchased a similar set this summer for $25.
I love the idea of this Prodyne On Ice Acrylic Platter that was $24.99 and is now $18.69. What a great idea, especially when you're serving cold shrimp. This Prodyne On Ice Condiment Server was $19.99 and is now $14.99. These items make me wish summer was just starting, but there is always next year.
There are also many BBQ items available, but I especially like this Cuisinart Barbecue Hot Dog Roller that was $14.99 and is now $8.99. I can't count the times I've dropped a hotdog while trying to turn them.
This sale has almost everything I need for summer outdoor meals, and there is still time left to enjoy them this year.
Don't forget to visit our Kitchen Stuff Plus coupon page for the latest printable coupons and discounts available.
Shipping: Free on orders over $75.
(Expiry: Limited time only)