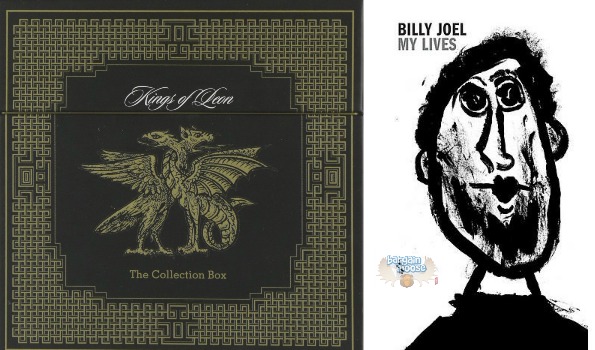 Amazon Canada is having some super deals on a few rock music boxed sets. I spotted the Kings of Leon set for only $24.99. This item qualifies for free super saver shipping with a minimum purchase of $25.
Kings of Leon is a favourite among the rock and pop hits. The songs get stuck in your head, and you find yourself singing along for weeks at a time. Put some tunes to your humming with this awesome boxed set.
This set includes five CDs and one DVD. Each CD includes extra tracks that are not previously released on CD. Included are the following albums:
Youth and Young Manhood
Aha Shake Heartbreak
Because Of The Times
Only By The Night
Come Around Sundown
You will also receive a DVD that features the Kings of Leon's performance in London, England 2009. You will be able to have this awesome concert experience right from your own home.
When you start price matching this box set across the web, you really start seeing the savings. Over at Walmart.ca, this boxed set costs $62.97. I also found this CD boxed set at Best Buy Canada for $62.99. Best Buy will let you sample some of the tracks from your browser, so click on over for a full preview of this album.
Reviews on Amazon are praising this album for the fantastic music. Several reviewers talk about how they listen to these albums multiple times, and how some of the songs are catchy right away and other songs you find yourself hooked a week later. This band also experiments with their sound, and listeners love it.
If you are looking for other cool music to fill out your cart, Amazon.ca has discounted a few other boxed CD sets today. Bruce Springsteen fans will be happy to see the Born To Run 30th Anniversary 3 disc set on sale for only $26.99. This same set at Walmart.ca will cost you $64.97, so you are saving quite a bit. This set is a re-mastered version of Springsteen's earlier work including four hours of footage of their London show. Featured songs include "Thunder Road," "Kitty's Back," and a fantastic rendition of "Saint in the City."
I also like the Best of My Lives Boxed Set by Billy Joel selling today for $26.99. Pick this same set up at Best Buy.ca and you will drop $72.99. This is a five disc set including four CDs chock full of classic hits and a DVD that showcases five hours of music, previously unreleased tunes and even a few covers. You want to check out this album.
If you need a filler for free shipping on the Kings of Leon album, check out the Jurassic Dinosaurs Sticker Activity Book. This fun sticker book is only $2. This would be a great little project for the kids, dad or me! I have another sticker book made by this same company, and they are fun little books.
These fab music sales are only good today, so snap up your favourites now. This is a great potential Father's Day gift. Both my husband and my dad would find music they enjoyed among these boxed sets.
(Expiry: 28th May 2015)