Yesterday, Eva spotted an absolutely fantastic deal here on sale shoes from the Town Shoes footwear company, which includes other brands like The Shoe Company and Shoe Warehouse. I was delving into the offers there to see what I could see, and I spotted this deal which I think is worth highlighting on its own. There are a number of kids' winter boots on offer, and you can get them from between $32 and $50, that's including free shipping to your home! These are superb prices for top brand-named footwear.
There are a few things you have to do to get these winter boots in this deal.
Sign up to the Shoe Lowers rewards here (it's free) – this gets you free shipping on spends of $35 or more
Use the coupon code ThanksFromShoeCo at checkout for $10 off $40
Now, even though the coupon code brings some of these boots down below the $35 level for free shipping, the free shipping appears to be calculated on the pre-coupon price – so it's free shipping at the last page of checkout, saving you a further $7 to $10 (depending on where you live). I tested this deal out on the Sub Zero Gravity Rallye boots which were $59.99 and are now down to $31.98. here's the last page of cart: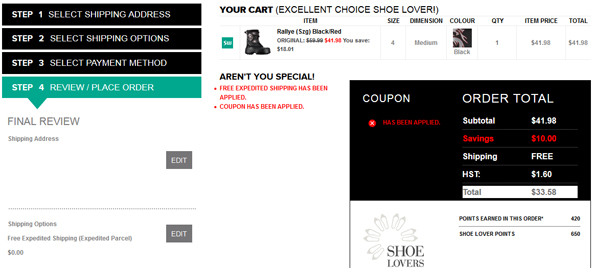 As you can see, these boots are less than $32 (plus tax) with free shipping! Sweet!
Here are a few more items to choose from in this particular offer:
Some of the kid's boots above have an excellent availability in sizing, but some are a little low in stock in various sizes. If you want to take advantage of this offer, just shop right now and think later or your sizing might be sold out.
The boots above seem to be listed under "boy" but in my opinion, they're perfectly fine for girls too. I do not care if my daughters are wearing blue or black boots – as long as they like them and the boots are keeping their tootsies warm and dry.
In the short time that I have, I cannot compare each and every one of the pairs of boots in the post above. But to give you a bit of a general overview - similar kids' winter boots on Sears.ca seem to start at around $50 to $55 and upwards from that. You don't get free shipping there though, unless you're placing a larger order.
(Expiry: Unknown)