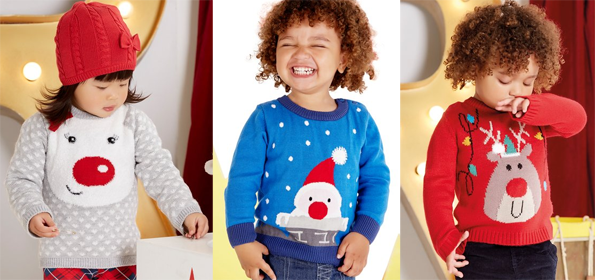 M and Co is a pretty cool UK company which I have mentioned here on Bargainmoose a number of times in the past. From time to time, they offer free worldwide shipping with no minimum spend – that's just what is happening right now. In addition to that, there's a coupon code for an extra 25%off site-wide (XMAS25). M and Co have a simply superb range of amazing kids' Christmassweaters upon which the code gives an extra discount!
The selection of kids' Christmas sweaters on there is just fab – it's very difficult to get anything similar in Canada. The pricing starts at £14 (~$28CA) which drops to about £10.50 (~$21.30CA) with the coupon.
Here are a few examples:
The Santa chimney jumper is pictured at the top middle – I love it! It would be around $21.30 when you add the coupon.
This one is brilliant – the Polar Bear Flashing Lights Jumper(pictured top left)! With the coupon, this one starts at a price of around $24.33.
I think this one is probably my favourite though – the Rudolph Flashing Lights Jumper which would be priced from around $24.33 as well. It's pictured at the top right – do you love it as much as me?
As we saw in this blog post from Brooke last night, it is possible to get adult Christmas sweaters from around $20…. But it's very hard to find the same for kids! Sometimes ordering from outside Canada can mean you get a brilliant item, still at an awesome price.
Price Comparing?
Now, it is honestly very hard to get kids' Christmas sweaters online in Canada. The only site that really specialise in this type of thing is Tipsyelves.ca, but they start at $45+ there. Even on the likes of Amazon.ca – none are sold by Amazon. All those on offer are actually from UK or Asian sellers anyway, and shipping wouldn't be instantaneous. From M and Co, they state that delivery would be 10-14 working days – that's very good and it means you have your items early in December for the holiday season!
Just a quick note on customs and duties – any order over $20 imported in to Canada may be subject to additional fees when it reaches your door. I don't have any experience with ordering from M and Co with shipping to Canada though – have you? Did you order in the past and how did it go?
(Expires: 29th November 2015)