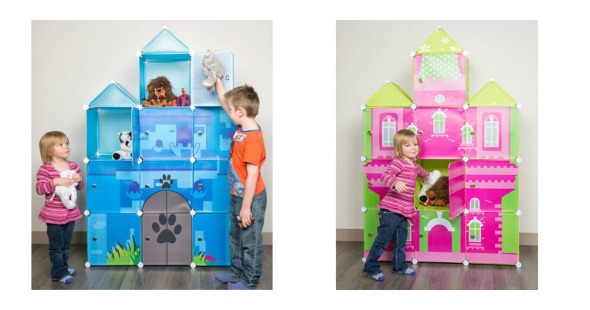 When we became new parents in January of this year, we quickly realized just how much stuff accumulates for a child. We had a lot of fun decorating his room but have yet to establish any sort of storage for books, toys and other small things. I like things neat and organized and I know how annoying, and sometimes painful, it can be to step on toys (I'm looking at you, LEGO!). I've come across this great storage shelf at Costco.ca for just $59.99, including shipping!
How cute is this? This Castle Storage Shelf has a metal frame covered with soft plastic and 10 storage sections, each with magnetic doors (which sounds very handy, so they're not left hanging open). You also have the choice of either blue or pink colour schemes.
I couldn't find this same Castle Storage Shelf many places online other than Amazon Canada. They have the regular price listed at $129.99! It's on sale right now for $69.99 but why pay $10 more than you have to?
It seems like a great size, measuring 43.3" wide and just over 5'3" tall. Each storage cube is just over a foot square (13.5" x 13.5") which sounds perfect for stuffed animals and other toys now, and maybe even clothes and shoes as they get older. They list the maximum weight capacity for each section as 11 pounds so you'd need to be a bit careful not to load up any one section with too many board books or heavy toys. It also includes the very important anti-tip kit for securing it to the wall. Because when they start to think it's a good idea to climb on such things (and they will!) you don't want it falling over if they decide to grab on and pull.
There is, of course, assembly required (more words you become overly familiar with when you have kids) but one of the 2 reviews states that it was easy to do. The other reviewer is more on the fence about the unit but I think as long as you have realistic expectations about what it can store (it is, after all, just thin plastic), you won't have an issue. Should there be a problem, Costco is very well-known for their generous and easy return policy.
You don't need to be s Costco member to shop at Costco.ca; there's just an easy sign up for a free account. The field requesting your membership number is optional and you should have no problems completing the checkout, no matter your membership status.
If you're looking for some storage for all those toys that the kiddos receive over the holidays, I think this is a great -- and cute -- option, at a great price!
(Expires: Unknown)