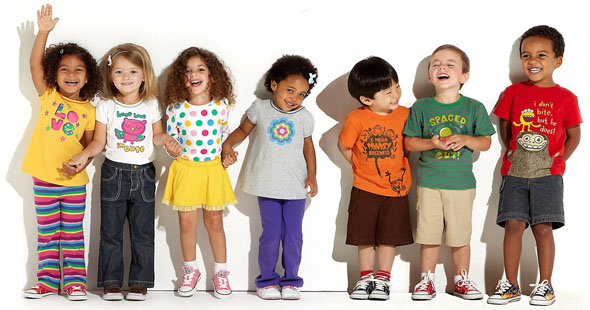 I was perusing the Sears outlet for some inexpensive clothing as our son is at a really weird in-between size but growing like a weed. There is a ton of stuff at great prices and most of it is even under $10! The Sears Outlet functions much the same as the regular Sears site; meaning you'll need to spend $49 to have your order shipped for free, or have it shipped to your local store for pick-up at no charge.
I first saw these long-sleeve graphic tees for smaller boysand girls that are only $2.94. At the $6.94 mark, there is a selection of girls' leggingsand athletic pantsfor boys; long-sleeve tees for older girls and waffle weave tops for older boys. Also for $6.94, are a number of baby sleepers and bodysuits.
Moving up the price scale a bit to a still-wallet-friendly $8.94, cargo swim trunks for boys and these cute yoga pants for girls. There are also two-piece sets by Carter's with shorts and a top for both boys and girls! There are jeans for baby and older kidsand a ton of licensed tees including Minions, Batman, Transformersand the eternal Teenage Mutant Ninja Turtles.
This is just a very small selection of things that jumped out at me as I sorted by lowest price - and I still haven't reached the $10 mark yet! Given the rate kids go through clothes, picking up a few things at prices like these is wonderful.
Remember, if you spend over $50, be sure to use the Sears Coupon Code for $10 off orders of $50 or more - enter 941612566 at checkout!
(Expires: Unknown)