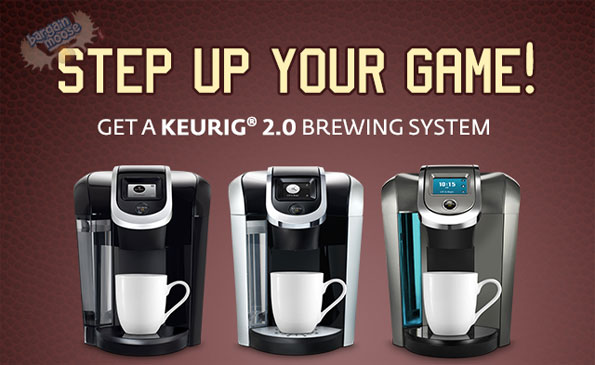 Join the Brewhaha with a SuperBowl worthy discount on select brewers from Keurig. For a limited time, you can save up to $30 on a Keurig 2.0 brewer. Plus, you will also get the following 2 freebies: 2 free boxes of K-Carafe packs and a free K-Cup carousel.
On Christmas, I involuntarily joined the Brewhaha when my hubby and I receive a Keurig 2.0 K300 brewing system. Knowing how much we love coffee, friends of ours got it for us and I have to say that it has been pretty great.Here's an overview of the prices you can expect to see for the Keurig 2.0 brewing system:
K300: reg. $139.99/ now $119.99
K400: reg. $159.99/ now $139.99
K500: reg. $189.99/ now $159.99
The last one on the list, the K500 offers the biggest discount, which is of $30. Basically, each brewer can brew coffee and carafes but the only differences lie within the setting and the water reservoir. The K300 has a 60oz reservoir, while the K400 has a 70oz reservoir and the K500, an 80oz reservoir. We drink coffee regularly and I haven't found the 60oz reservoir to be too small by any means.
I have long been a supporter of Keurig brewing systems but the great part about this one is that you also have the option of brewing a carafe. However, it doesn't look like the carafe is included with these brewing systems as the description make no mention of it. You can pick up a starter carafe for $14.99 or a thermal one for $24.99.
Freebies
According to Keurig's promotional banner, every order over $45 comes with:
2 free boxes of K-Carafe packs
1 free K-Cup carousel
Despite clearly mentioning that it's on orders over $45, it seems to me like this only applies to the brewing systems, especially since it comes with K-Carafe packs. As for the carousel, it should be the Keurig 2.0 carousel but don't quote me on this. The cool part about it is that it has slot at the bottom for K-Carafe packs and slots at the top of regular K-Cups.
$2 Off Van Houtte K-Cups
Love Van Houtte? Then make sure to pick up some Van Houtte K-Cups are these are all $2 off their original price of $16.99, which means you can pick up a box of 24 K-Cups for $14.99.
Shipping
All brewers will automatically qualify for free shipping but if you only need to grab a couple of K-Cup packs or accessories, then make sure to shop for over $45 in order for your order to qualify for free shipping.
(Expiry: 15th February 2015)