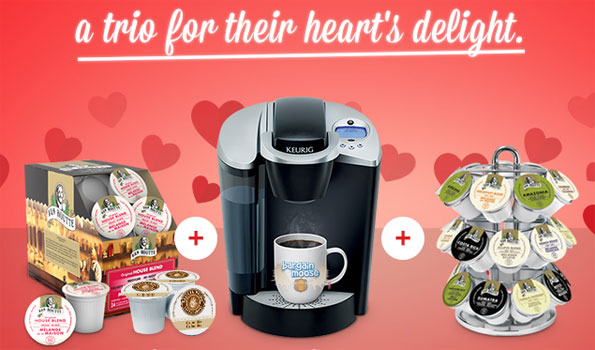 Piling on the savings, Keurig Canada has combined three amazing products into one delicious combo. Dubbed Cupid's Tempting Trio, it includes a K60 Special Edition brewing system, 24 Van Houtte House K-Cups and a K-Cup carousel for just $119.99 (reg. $206.38). This deal is valid until February 25th, 2014.
If bought separately, the brewer comes up to $159.99, the carousel to $25.95 and the k-cups to $20.44 -- so, at $119.99, you're saving over 40% off! Heck, at this price, even I'm tempted to get this trio even though I already have a similar brewer and a pantry full of k-cups.
But I guess I'll just have to contend myself with taking advantage of another super awesome Keurig promotion going on right now: 20% off all K-Cups and accessories, which expires February 17th 2014.
Not only can you stock up on your favourite k-cups and take immense pleasure in knowing that you're saving loads, but you can also get an accessory, such as this Keurig stainless steel travel mug to make sure that your morning cup of energy stays piping hot all the way to work. Originally priced at $19.99, it can be yours to either enjoy yourself or give to a loved one for Valentine's Day for just $14.39.
Even more exciting is that free shipping is also available on all orders, with no required minimum.
Are you a K-Cup fan? What is your favourite beverage to have in the morning?