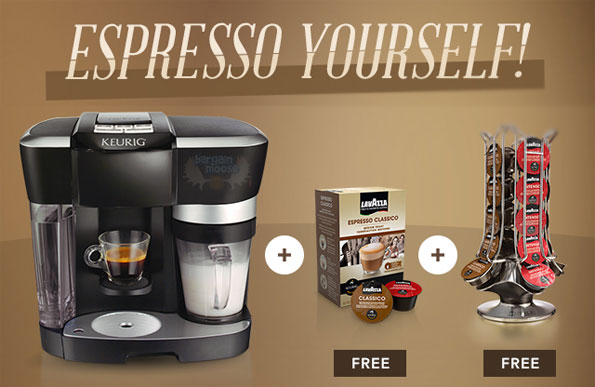 Moosers, get ready for a whole lot of "free"! Keurig Canada is offering a $20 discount on their all new Rivo brewer and with its purchase, you can also now get a free box of 18 packs, a free carousel and free shipping. That's triple the "free"! In fact, it's even possible that you might get an additional box of packs for free as every Rivo usually comes with one.
Important: you need to add the pack of Rivo cups and the carousel to your shopping cart in order to get them as freebies. They will automatically be converted to "free" on you add a Rivo brewer to your cart.
The Rivo is Keurig's all new brewer and is essentially an espresso-making machine that can also froth milk. With 15 bars of pressure, the Rivo can pour 2 different sizes of espresso and froth milk in 3 different ways. Just like any regular Keurig brewer, it takes less than a minute for an espresso to be poured. The water reservoir also has a 60oz capacity.
While the carousel usually retails for $27.99, while the packs are usually priced at $14.99. For the free pack of Rivo cups, you have the option among these 4 different types and there are 18 in each box:
Reading the descriptions, I am totally inclined to want to try the Delicato one as it feature chocolate undertones, but if you like your espresso nice and strong, then the intenso might be a better choice.
If this is your first espresso machine, then rest assured that a drink recipe booklet is included as well. Essentially, you can make any of the popular espresso-based beverages like a latte, a cappuccino, a mokaccino, an americano, and espresso con panna and many others. The possibilities are truly endless, especially when you add syrups and whipped cream into the mix. Keep in mind that whole milk is the best for frothing and for making a cappuccino but you can use just about any other type of milk, including soy milk. I have met people who like their lattes with half and half instead of milk and while it's certainly delicious, I only recommend it if you have the time to gym the gym for about 10 hours afterwards.
Since shipping is free on orders over $45, you're sure to get your Rivo, along with all of the freebies shipped for free as well.
(Expiry: 27th November 2014 @ 5pm EST)