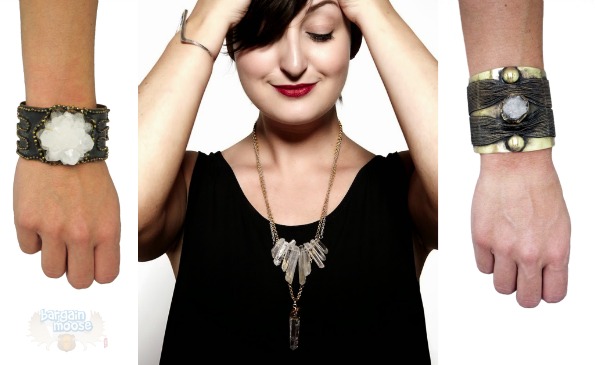 Kate Hewko Canada is having a sample sale. Their jewellery is beyond incredible so take advantage of this sale to score an incredible deal on necklaces, bracelets, rings, and more with free shipping across Canada.
My husband bought me a necklace from Kate Hewko for my graduation. I am beyond thrilled with my necklace, the quality is incredible and the design just blows my mind. While the necklace I was given is not included in the sale, there are many beautiful pieces on sale. I have to give you my top three picks!
Agate Druzy Earrings - Was $75 | Now $45
I own a pair of earrings just like this and I get complimented on them all the time. They are a cross-section of agate druzy that allows you to see the inside crystallization as well as the layering. The gold-plated outside adds a little more sophistication. Each earring complements each other but does not perfectly match as we are dealing with natural stone here.
Tourmaline Necklace - Was $115 | Now $60
This necklace carries some serious crystal weight. I love the line of clear quartz of different sizes and lengths all in a row. The clear stones will match with pretty much anything in your wardrobe. This necklace is nearly 50% off, so I am also a huge fan of the quality for the price you are paying... this concept is often summed up in the word value.
Bollywood Cuff- Was $35 | Now $25
Are you on a tight budget and dying to buy something pretty for yourself or someone else very special to you? I recommend the Bollywood cuff. This cuff is made out of silk wrapped Indian antiqued metal. The cuff is adjustable for a perfect fit. At only $25 with free shipping, I cannot think of anything better from a fantastic Canadian designer.
While I cannot speak as to Kate Hewko's customer service yet, my husband was quite pleased with it. He contacted customer service to arrange shipping time to ensure the necklace arrived in time for my graduation and to add in a sweet little card as well. I am absolutely in love with my necklace and cannot fathom anything better. I was so surprised when it came from my home province of Alberta!
You really must check out this sale. With over 30 items included, now is the time to pick up something extra special for yourself or a loved one.
(Expiry: Unknown)