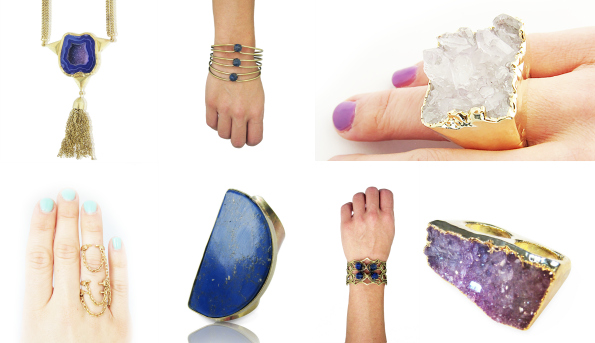 Few Canadian independent businesses do Boxing Daybetter than Kate Hewko: she is offering 50% off all jewellery on her website using the following coupon code along with free shipping across Canada. Pick up something beautiful for yourself or a loved one today.
Click here to shop the Boxing Day offer @ Kate Hewko Canada now
Coupon Code: BOXING50
Discount: 50% off
Expiry: 26th December 2015
Make sure to choose CAN from the drop-down menu at the top right. I own two pieces from this artist and am completely enamoured with both of them. The quality and the workmanship are well worth the original price, let alone such a deep discount. This Nancy Ring for $144.95 CAD would be a top pick of mine. It is made of a clear quartz cluster stone and the ring is plated in 24K gold. After coupon code, pay $72.48.
I adore rings made of raw, natural materials from the earth. This Candace Ring has an adjustable cuff and chunk of gorgeous black tourmaline on the front. Originally $131.15 CAD, it will only cost you $65.58.
Some pieces are already on sale and you get an extra 50% off the sale prices when you use the coupon code above. For example, the Candace Bracelet - Lapis Lazuli/Brass was $151.96, but is now on sale for $113.89 CAD. After coupon, you will pay $56.95. That is nearly $100 off the original price - thus an amazing deal overall.
Here is another sale bracelet: the Erin Cuff. I think this is my favourite as it is so bold - what a statement piece! Originally $220.88 and on sale for $165.66, you will score this bracelet for just $82.83. You save big and get a beautiful piece of jewellery that no one else will own. That is the way it is with my Kate Hewko necklace and earrings: I always get compliments and people wanting to know where I bought them from as they have never seen anything like it before.
For smaller budgets, pick up the Helen Ring for only $31.06 (was $62.12). It is actually a two-ring set with chains connecting the two. One sits farther up on your finger. This is a cute ring set and makes a nice gift as well. The set is adjustable so you do not even need to know her ring size.
All orders receive free shipping so you do not have to worry about additional charges. My two orders came in beautiful gift bags - I hope yours will too.