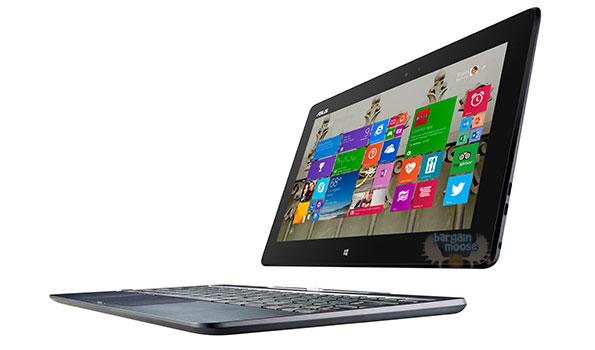 November is usually synonymous with loads of tech deals and here's another little hot offer to get you Moosers ready for Christmas: Microsoft Store is currently selling the Asus Transformer 10.1" tablet for just $329. It's a 2-in-1 PC that also comes with a 500GB HDD keyboard dock.
I am beyond jealous of this deal. If I hadn't already gotten my hubby this exact tablet a year ago, I would have totally taken advantage of this mega deal from the Microsoft Store, especially since I bought his at full price and without the keyboard!
For just $329, however, you can currently get this tablet along with a detachable keyboard. The option of a keyboard is a particularly great one, especially for those times that you need to take notes (i.e. in class) but another major perk is that it add as much as 500 additional giga bytes on top of the already built-in 32 ones within the tablet for a total of 532GB. That's particularly useful for all those of you that are looking to use a tablet for watching movies and TV shows.
Speaking of taking notes, it also comes with a free year of Office 365 Personal, which includes Words, Excel, PowerPoint and OneNote!
Here are just some of the other noteworthy features:
10.1" LED HD screen
2GB memory
32-bit Windows 8.1
2-in-1 PC
2-cell battery life
Bluetooth integrated
Looking around, I found this exact tablet on sale for $388.99 (reg. $399) at Amazon.com. Although Microsoft Store's doesn't have any reviews, on Amazon, this cool tablet has generated nearly 170 reviews with a general consensus of 3.9 stars out of 5. In fact, here's one review that particularly stood out to me:
I've read TONS of reviews and I've seen people say that you shouldn't expect it to function like a computer but so far that's exactly what it does. It's a small computer. I love it and I'm super glad I decided to spend the money on it. Well worth it.
Plus, with purchase of this tablet, you can also save 15% off select accessories like wireless mice, keyboards, webcams, and more. For those of you with an Xbox, remotes for either the Xbox One or Xbox 360 are also among these picks.
(Expiry: Unknown)