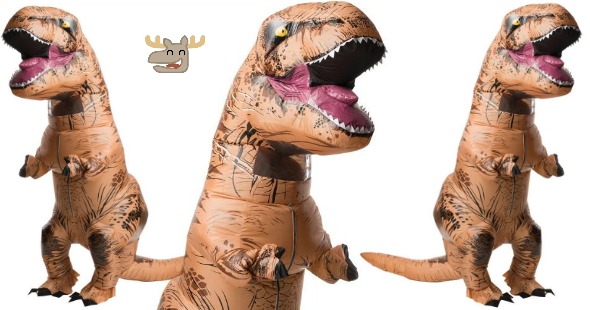 Isn't this just the best costume on the face of this planet? With all the hype about the Jurassic World movie, I bet lots of people would love to be a t-rex for Halloween. Right now at Staples Canada you can snag this Adult Jurassic World Inflatable T-Rex Costume for just $84.96. While it is not much of a discount off the regular price of $99.96, it is still a fabulous item that is sold out pretty much every where else (even at a higher price). You will even get free shipping.
Can you imagine the havoc you can cause running around as a dinosaur? You will be the talk of every Halloween party, and adults and kids alike will love your costume as you trick or treat with the kiddos. For just $84.96 including shipping, you can have the best costume on the block, or even in the neighbourhood from Staples Canada. I am sure this is even a costume you can use year after year too. Though it says the costume is adult sized, I would think older teenagers (high school students maybe) would fit as well. Keep reading to see the hilarious video!
I didn''t think this costume would be as realistic looking as it actually is. I had a quick look on YouTube to see if there were any videos of this thing, and I found this hilarious video of the inflatable T-Rex dancing to the Watch Me Whip song.. Ever see a tyrannosaurus twerk before? Now I can say I've seen everything.
If you are wondering if you will fit into this amazing costume, there is a sizing chart on the Staples.ca product page so just have a look there to see if it will fit before making the purchase. This costume includes the actual inflatable costume, the battery operated fan, shoe covers and even gloves. It does require 4 AA batteries, but they are not included. If you are planning on wearing this for several hours then I would pack a spare pair of batteries just in case. I find things like this run out of juice quick.
You'll get free shipping with this Adult Jurassic World Inflatable T-Rex Costume too. It will ship in 3-5 business days, so you will definitely have it in time for Halloween. If you are not content with your purchase once you receive it, please make sure you return it before October 27th. Since it is a seasonal item, they will not accept it any later than that.
(Expiry: 23rd October 2015)