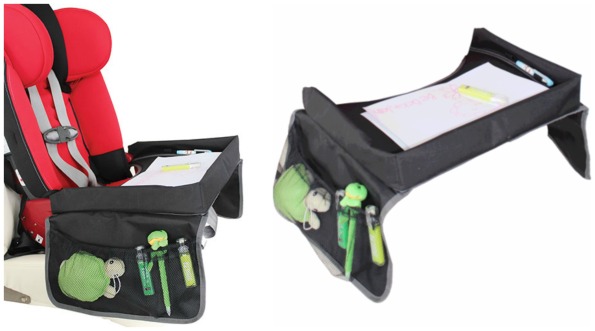 Do you often venture out on long road trips? If you have a toddler then you probably know the struggle of trying to keep your little one entertained for the road trip. Wouldn't it be easier if you had a tray for them in the car? Something to put their snacks on, or something for them to hold their colouring books while they colour? Check out this Jolly Jumper Car Seat Travel Travel which is only $17.99 from Well.ca! Spend $29 to get free shipping.
The Jolly Jumper Car Seat Travel Tray is a must-have for any mom who spends any amount of time driving her kids around. It is just $17.99 and will buckle securely around any car seat, booster, stroller, airplane seat, etc. It provides a flat surface for your child to draw, read, eat, watch moves on a portable DVD player and more. This is the least expensive option around for a tray like this. I compared this product to other brands and you would be looking at spending $30 or more on other brands from other retailers.
Here are some of the features that this Jolly Jumper Car Seat Travel Tray has:
rolled rims so items don't roll or slide off the tray
2 mesh side pockets for storing crayons, snacks, and more
folds for easy travel and storage when not in use
no plastic parts (for safety reasons)
I have to admit, I would worry about how this item would conflict with the safety of my child in case of an accident. I am glad to learn that there are no hard plastic pieces, so essentially in an accident it would just fold down rather than injuring your little one. My shipping was estimated at $5.25, but that will differ probably based on your area of residence. You can get free shipping if you spend enough though.
Well.ca offers free shipping on orders over $29, so your best bet is to try and get to that minimum spend threshold. You could snag two of these convenient Jolly Jumper Car Seat Travel Trays which would put you at that minimum spend for sure. These would make an excellent baby shower gift I would think. What mom doesn't want something to help occupy her child in the car?
(Expiry: Unknown)