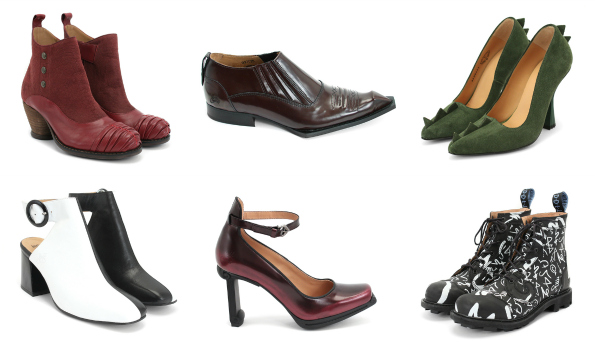 John Fluevog launched the Black Fluevog sale on Friday with great deals on boots and shoes. I held off blogging about it because I thought that they just might throw in free shipping on Cyber Monday. Guess what, I was right! Today only receive up to 65% off AND free shipping on your entire order. Fluevog shipping is $16 for the first item or $10 per item for two or more items, thus you save $16 at minimum and potentially much more.
Let us start right in on the amazing shoe deals. This Ghali heel has major attitude with a stunning pointed toe, foot strap, and heel strap. Originally $345, these shoes are now on sale for $139.99. Quite a few sizes are still in stock, which is rare for such a steep discount.
The Queen of the Skies Neptune looks like a dragon or a dinosaur on your feet. These babies have spikes! They are currently in stock in my size *swoon* so that pair might disappear out the door with me. Originally $339, these beauties are now on sale for $139.99. You can pick up a pair in green or in black. I am all in for a pair in black.
The Living Anton is available in both female and male sizes. I really like these unisex boots because they tend to be made wider - with wide feet that is a lifesaver. All colours are currently on sale for $359 down to $149.99.
I am crying - CRYING - over these Hopeful Blossoms Knee-High Boots currently on sale from $499 down to just $169! This price is only valid in the brown colour combination - not in the black colour combo. These are made with an elastic around the back that will shift and mold to your calf. They are a little short in the toe-box so size up.
90% of my shoe collection all comes from one company - Fluevog - so I consider myself a bit of an authority on them. They make some of the best boots and shoes you will EVER own. On top of that, they are wicked cool and totally different than most companies are making these days. Fluevog was started right here in Vancouver, so you are also supporting a home-grown company.
There are SO many other shoe deals on right now that you just really have to shop this sale. With free shipping and amazing discounts - you cannot go wrong.
(Expiry: 30th November 2015)