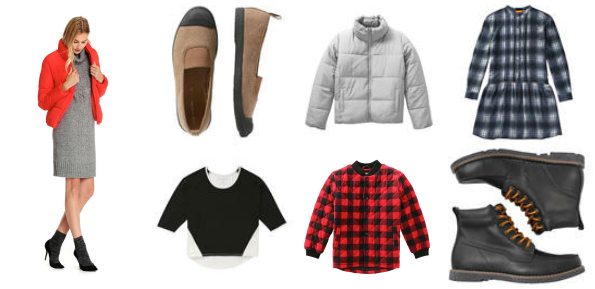 You still have time to order at Joe Fresh Canada and receive your order before Christmas. The company is currently offering free next-day delivery on orders of $50 or more. Combine that offers with up to 82% off in the sale section to really get the best bang for your buck.
All items in the sale section are final sale, so make sure you know what sizes you need. I was trying to find an impossible combo: steeply discounted items with plenty of sizes in stock. I did find these Slip-On Shoes on sale from $19 down to $4.94. These casual felt shoes can be worn inside and outside as they have a rubber outsole and toe.
When winter comes, I have this unusual craving for plaid. It is just a warm and cosy pattern to me. This Plaid Dress is on sale from $39 down to $9.94. It is like a shirt dress with a drop waist and a bit of a flared skirt. I just ordered a plaid dress a couple weeks ago and look forward to wearing it around the holidays. A pair of knee-high boots and some pretty jewellery would dress this dress up nicely.
While not the highest discount, this Puffer Jacket is a winter essential. Available in an array of colours, this is a thrifty find for those cold winter days when you just need the warmth of a puffer. Originally $39, each jacket is only $18.94.
In the girls' section, I discovered this Kid Girls' Colour Block High-Low Hem Tee on sale from $14 down to $3.94. Available in two colours, plenty of sizes are still in stock.
In the men's section, these Men's Lace up Work Boots caught my eye. Originally $69, they are currently on sale for $19.94. That brought my cart above the $50 range so I could get free next-day shipping.
The total value of the contents of my cart (one of everything above) comes in at $180, and yet I will only pay $57.50 for the entire collection. On top of that, I get free next-day delivery, which has a value of $25. I consider that a pretty good deal when you combine the shipping deal with the discounts in the clearance section.
Note: next-day delivery is not available across Canada. This promotion only applies to addresses where Next Day Shipping is available. It is probably restricted to major cities.
(Expiry: 21st December 2015)