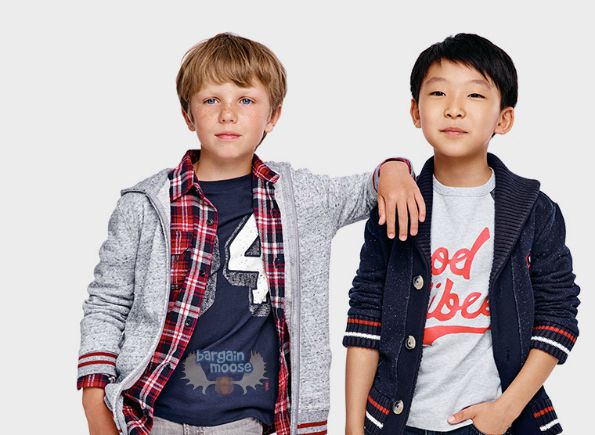 I was talking to another mom yesterday about how much we love Joe Fresh. I used to love them because it was so easy to shop for clothing for the whole family right at the grocery store, but there is a whole new world online to be discovered. This mom had never shopped online for clothes, not even from her favourite store Joe Fresh. I told her it was more than worth it because the deals were much better, with coupons upon coupons to be had! Right now Joe Fresh has a very stocked clearance section with items up to 70% off, but once the items hit your cart, they'll be discounted by another 30%! Do you know how full your cart will be of back to school clothing? Plus at $50 you get free shipping, so hey, why not? One particular item of interest to me was boys tank tops, regularly $6, brought right now to $1.58.
My boys have a number of these graphic tank tops and muscle tanks, although I paid full price for them at the beginning of summer. I'm sure I used some sort of coupon, but I definitely did not get them for less than $2! I'm just going to go one size up and get them all new tops for next year. I could buy 20 tops and still not pay much.
Less talking, more surfing is a cute one, as is summer of surf. I don't have to agonize over which to choose as they are such a great deal, I can get them all! *insert evil laugh* My boys have these photo print topsand they last through repeated washings and look very cute.
The girl's bathing suits are a fantastic deal as well. Regularly $16, now only $4.78. Stock her drawers for next year and that next trip to Great Wolf Lodge! This girl's strip bandeau swimsuit in coralis super cute!
This deal isn't just applicable to kids clothes, it works on your clothes and your man's clothing too, so see what else there is to add to your cart and make this a full-family shopping experience. Note that the extra 30% off only adds on select clearance items, which are shown at that link above.
(Expiry: 3rd August 2015)