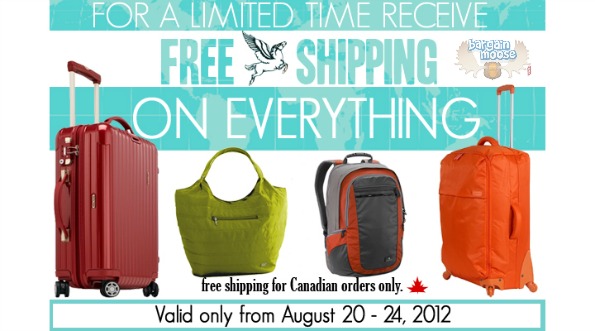 Jet-Setter Canada supplies travel and luggage gear from clothing to suitcases to electrical adapters.   They now have a sale on for a free folding water bottle with any purchase of rolling luggage while supplies last.  They are also offering free shipping on any order until August 24th 2012.
This Tarmac ES3 25" looks to be one of the standard type of rolling luggage used and is $339.99.  The materials they're made from makes it lighter in weight with an expansion zipper giving you 15% more packing space for longer trips.  Available colours are black, cypress green and red clay.
I like the look of this Polycarbonate 3-pc set for $360.  These look heavy, but are actually extremely lightweight and shatter resistant.  The set includes one 19", one 23" and one 28" suitcase.  This is only available in the red colour that is shown.
Check out the sale on this Ease 4-wheeled upright 22" that was $359.99 and is now $230.40.  This Ease wheeled carry-on toteis also a good deal.  It was $239.99 and is now $192.  These are available in black and pewter and would make a nice set to have.
Jet-setters have carefully selected products that would make your traveling experiences a lot more enjoyable.  You should check out some of their packing organizers or accessories.  Even their clothing all serves a purpose for traveling.  I was quite impressed with the different items and the thought put into them.
Shipping: free until August 24th 2012, after that see schedule.

(Expiry:24th August 2012)