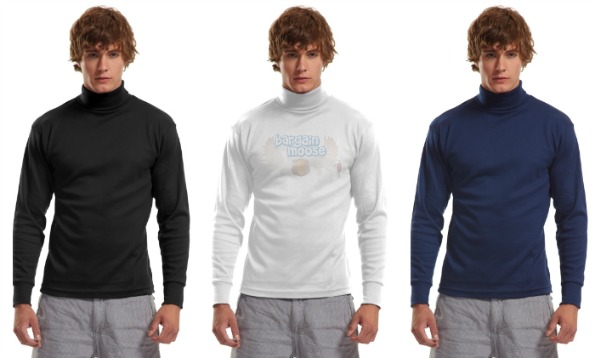 Jerico Canada is a new to Bargainmoose company that we have never blogged before with some great deals in their clearance section right now.  I found a pretty amazing deal that I wanted to share with our Moosers.  For a limited time only, you ca get turtlenecks for just $2.50 when the regular price is $30.
This clearance turtleneck comes in three different colours.  You can choose from white, black or navy and they are all just $2.50 each. They have a pretty big selection of sizes and it actually shows how many items are left in each size right under the item. That is something pretty rare for online shopping and really makes things easier. You will notice that some of the larger sizes are $1 more, making them $3.50. That is still an incredible deal. Whether you are paying $2.50 a top or $3.50 a top, you really can't go wrong!
You may be thinking, why write a deal about a turtleneck in the middle of summer? My answer is, buying winter clothes in the middle of summer is the best time to buy them because they are at the lowest prices. Who cares if you buy something and have it hanging in your closet for a couple of months? Your other winter clothes will be there as well, so why not! Getting a shirt for just $2.50 when you would normally pay the full price of $30 in the cooler month is a spectacular deal that you just can't afford to miss.
If you are looking for summer clothing, they do have some of that in the clearance section as well. There is a variety of items for men, women, and kids all at some fantastic prices.
As for the cost of shipping, there is a flat rate shipping fee of $10.  Even though that may seem high, these turtle necks are $27.50 off the regular price so you are really saving a bundle in the long run.  The shipping it totally worth it.  I suggest maximizing your discount and checking out some of the other great deals since you will be paying the flat rate for shipping anyways.
(Expiry: Limited Time Offer)