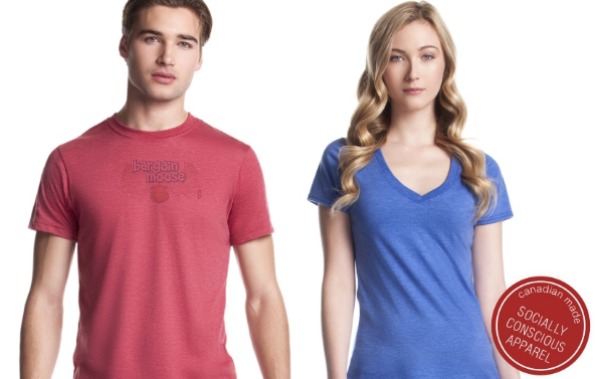 We wrote about a new to Bargainmoose store the other day with a great deal and we have just found another one.  For a limited time only, you can get women's short sleeve scoop neck tees for just $1.50 each!
The regular price of this tee was $17, and it is now on clearance for just $1.50. For this tee, there are two different colours to choose from left in the clearance section.  You can choose the gold (yellow) or the kelly (green).  I love the kelly colour because it is a bright green and very flattering. As for the material, it is a 50/50, poly/cotton fine jersey blend which means it is a nice soft tee. It looks like the top has only the larger sizes left right now which is pretty common with awesome discount deals like this.  If that works for you, it is a great deal!
This tee is lowest priced item in the clearance section but there are some other great deals in there for both men and women. This men's shirt was $40 and is now on sale for just $6. You could also get this women's shape jacket that was $63 and is now on sale for just $30.
You may also want to check out the great deal we blogged the other day for Jerico that had turtlenecks on sale for just $2.50 when the regular price was $30. They still have a lot of those left to snap up for fall and winter. Even though some of the items are limited for the sizes or colours, they are all really great deals.
I love the fact that Jerico is a Canadian store, and every single piece of their clothing is fully made in Canada.  There is nothing better than supporting a great Canadian store!
As for the cost of shipping, it is a flat rate shipping cost of $10. It won't matter if you get one item or more, it will still be $10. For this reason, I suggest you take a look at many of the other sale items to make the cost of shipping worth your while.  However, even if you do just get this one tee, it will be just $11.50 total which is still less than the regular price, so either way you will be saving.
(Expiry: Limited time offer)