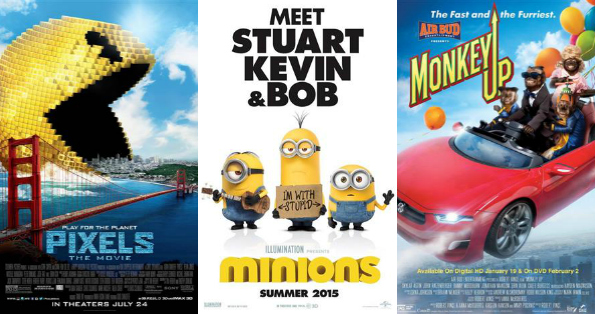 January starts tomorrow and we want to bring you another year of great deals. Why not start your year off right with some movies for just $2.99 per ticket at Cineplex. The Family Favourites are back and there are currently three featured films listed for January.
January 9, 2016 - Minions
Yes! This is the new Minions movie your kids have all gone crazy over. Now you can see it again in theatres for just $2.99 per ticket. Follow your three favourite Minions as they try and hook up with and evil boss and all the antics that ensue.
January 16, 2016 - Monkey Up
I had never heard of this movie before, but it is the escapades of one talking Capuchin Monkey who dreams of fame. He is currently the mascot for the energy drink, 'Monkey Up,' but he wants more. His greedy owner has other plans.
January 30, 2016 - Pixels
I think Pixels is the best children's / adult's movie mashup. In Pixels, intergalactic aliens misinterpret video-feeds of classic arcade games. They declare war (or think war has been declared on them) and it takes some classic gaming guys to come to Earth's defence. How are your PacMan skills?
These are not listed on the Family Favourites page yet, I found them through going through all the events for the next month. It looks like there will not be movie on January 2nd nor could I find one for January 23rd. However, there are three wonderful movies to choose from this coming month that are just $2.99 per ticket.
I checked the prices by going through checkout with a Minions ticket. It does not look like there will be a price increase come the New Year, as the ticket was ringing through at just $2.99 - which is the current advertised price. I hope that the Family Favourite's page is soon updated with the new movies for January (they only have December right now) so we can find out for sure if there are only three movies next month.
(Expiry: Varies)